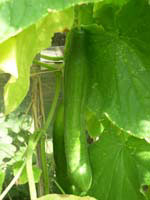 We have grown cucumbers for three years in our PIUY (put it up yourself – from a long thin box marked "greenhouse" – it took us 2 long days) . The first year we grew three tiny cucumbers that shall remain nameless. As beginners, we were delighted with the result. The next year we grew even more of the same variety and then suddenly disaster.
Initially it was mouldy fluffy stuff on the leaves. I checked the Organic Gardening Book and dusted with the recommended treatment. Everything perked up. But within a couple of days they all declined dramatically. I dusted like mad again but all promise of cucumber life, including the baby-dolls-house sized, were looking very seedy. I wondered whether cucumber growing was some sort of art form as I pulled the dead plants out of their grow-bags a few weeks later.
This year I was determined to get it right. In March I was lured by the seed displays in a large Cambridge garden centre that we call Southfork. It's a dangerous time of year for buying seeds as the display area is five deep in couples selecting their seeds for spring planting. It was impossible not to eavesdrop on their comments as I reached for the pack that I thought would do the trick. I gave up and replaced it. I drove out of town to an excellent nursery in Fordham. I needed some privacy. Loads of people were checking the plants but no one was even near the seed packet display.
I found our old brand and immediately discarded it, even though the picture on the pack looked good. As the choice was limited (two more varieties) it didn't take me long to read the small print on the back and I bought the least disease resistant strain. I raised seven sturdy plants. They all survived and are incredible! I have been picking one or two cucumbers every evening for weeks.
Even cramming salads and sandwiches we can only eat three or four cucumbers a week. In desperation I ventured onto the internet and found a recipe, "Granny's Very Sweet Cucumber Chutney". Perfect. Ingredients: take ten cucumbers. Even better!
I made twelve enticing jars (needs a month to mature). What to do with the remaining 200?
Leave a reply