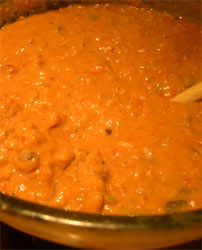 We'd had a bag of lamb knocking about for so long in the freezer that I finally decided to cook it. It was a bit of a sacrifice as the bag had been useful. It was the perfect side prop to stop more precious things dropping out.
"What cut of lamb is it?"
I had no idea, even when I examined the four long lengths.
"Why don't we give it The Beastley Treatment? It always seems to work with elderly frozen meat."
So I did. The slow cooker bubbled away and it smelt delicious for hours.
Therein lies the rub. I overcooked the lamb. After five hours the meat had a pre-digested texture. Danny reached for a fork to savour the dish. There was silence and then he pronounced.
"It has the texture of dog food."
"Don't worry, I think I can pull it round."
Secretly I wondered how he knew what the texture of dog food was like.
It sat in the fridge for a couple of days and I began to hate the sight of the bowl. Tonight I sifted out the meat and liquidised it – now it had the texture of Shippham's meat paste (the stuff in jars). I stirred it into the vegetables and sauce and discovered that I had made a nasty pink baby food. Even though D made encouraging noises, I knew that I had a disaster on my hands.
I added a handful of soya mince to a coupe of portions of the sloppy mess and suddenly was on a slippery slope. The soya mince added a sort of plastic texture that underlined the hideous liquefied meat. It would have been better to remove the meat completely and use the tomato sauce as a base for other dishes.
Served with spaghetti and lashings of parmesan we managed to force down a few mouthfuls before pushing our plates aside.
Leave a reply