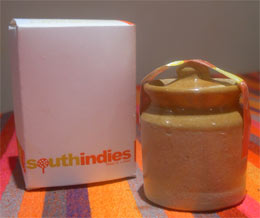 Danny returned from a week in Bangalore with a suitcase bulging with spices and the remnants of a tan. It was his first visit to India
"I relaxed on Sunday on the balcony and even though it was overcast I got burnt. I was pink for the rest of the week."
I experienced this once. If you spend most of your time indoors it can happen so easily. You are not used to exposing yourself to sun and you don't think to pack the factor 30. Cloudy skies can be lethal. The UV rays still penetrate through the clouds. The burns can be horrendous.
Six days later his bright pink face looked exhausted as he slumped into the passenger seat after 19 hours door to door travelling.
But he was excited as he laid his bounty on the kitchen table. First was a bulging bag of spices including some I had never heard of before.
"Sudheer looked after me really well and he drove me to the supermarket where we found these."
D lifted another exciting bag, packed with bags of spicy snacks. The Bombay Mix that we buy here in the UK is not half as good as the real thing from India
"PhaniRaja sent you these snacks. He was my food consultant! He also organised an evening out at the South Indies restaurant that was the highlight of my trip and he insisted that I got a lift home on the back of Ram's motorbike! Great fun."
He passed me a small box that contained an adorable jar of ginger walnut chutney, presented by the restaurant owner. Delicious chutney and even better, the recipe printed on a small card as we now have the authentic Indian spices.
So D is home and full of stories about his amazing week in India. He was very impressed by the hospitality and generosity of the people. He mentioned a dozen names but I cannot remember all of them. It sounds like his colleagues gave him a great time, taking him out every evening to taste Indian food.
"It was mostly vegetarian and it was delicious," chatted my companion carnivore.
He loved the cultural differences and the climate. No wonder he can't wait to go back again. He has not mentioned taking me along on his next trip but I have six months to work on him.
Leave a reply