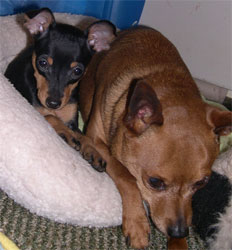 We have three Min Pins. Dr Quito (9), The Contessa (8) and Inca (2). Inca needs a dog nearer her own age. Dr Q loves her and looked after her when she was a pup. Played with her for hours and let her sleep in his basket.
He loves the elegant and silky furred Contessa too. Unfortunately when we bought her home as a puppy she did not reciprocate his joy. She grabbed all his toys and wouldn't share a bed. Ever.
The arranged marriage suddenly firmed up when Inca arrived. The Contessa snarled though the bars of Inca's pen. Dr Q licked the teeny pup and sat for hours watching her. When she grew to a size that wouldn't be guzzled as a snack by T.C. we let Inca run free with the dogs.
"Don't dally with my husband," snarled The Contessa, when Inca played with Dr Q. Inca has a broad back and a skin as thick as Sunday roast pork crackling.
She is made of gritty stuff. A sturdy build of Min Pin with the typical black and tan character. Intelligent, wilful and strong. Eventually The Contessa and Inca must have signed a sort of husband sharing truce as they now get along in a snappy sort of way. Nasty altercations that worry me and then I spot them hunting together and sometimes even sunbathing with Dr Q.
When Inca comes into season The Contessa moves from her penthouse retreat on the chairs and joins her husband. Suddenly Dr Q has the attentive wife that he longed for and a pretty young feisty girlfriend. The problem is that Dr Q was attacked by a lurcher when he was a puppy and he doesn't have the voomf in his back legs to father a clutch of pups. So pups are a highly unlikely future event if we leave the dogs alone.
We want Inca to have a litter. She needs a companion nearer her own age and we are making plans. She came into season late this spring and we considered finding her a husband but we are both up to our ears at the moment and eventually decided to wait until the autumn.
It's easy to find a champion but we'd like to see the prospective husband relaxed rather than in amorous mode. We want Inca to have pups that would be happy in an ordinary home rather than produce a litter with the perfect confirmation for the show ring.
Ideally Inca will give birth a pup to be her best friend. And if there are more pups we are determined to find good homes for them. This is the tricky bit. Whenever I have bought a Min Pin pup the breeder has cried as I walked to the car. Would D ever be able to let them go?
Last night, Inca reached the peak of her season. Dr Q was going crazy. So I helped him aboard. If they had pups the personality combination would be wonderful. She's sparky, he's always been the steady friend from next door. But he's an old dog with low fertility so the possibility of fertilisation is minuscule. But miracles can happen once in a while.
Leave a reply