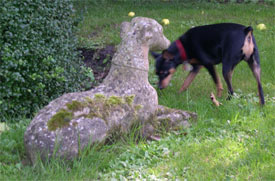 Living under six foot ceilings in our sixteenth century cottage sometimes gets to us. In summertime, we repair to the table beside the pond where the sky is as open as our dreams.
We have a lean-to barn at the south side of the cottage. We plan to knock through from the house and convert it to a decent sized kitchen, some day. Aga, atrium ceiling, the lot.
We know where we will buy our kitchen units, we have chosen the taps. We even know what we will do with the space that housed the old kitchen – (it's so small that it could only be used as a hallway).
When we win the lottery the first call that we make will be to the builder. We know the one that will be best for us, and that is not necessarily the Best Builder. This is the mistake that many people make. They choose the cheapest or the most expensive. The latter is generally a bad idea.
If I am asked to quote for a job and don't like the house/client/pet alligator, the tactful response is to put in an enormous bank-account-squeezing quote. Sometimes, to my horror, my exorbitant quote is accepted and I have to work alongside the pet alligator and feed it at lunchtime.
Leave a reply