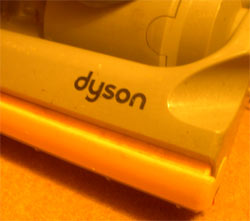 A couple of weeks ago our trusty old Dyson cut out. It felt very hot so we let it rest for a couple of hours while I searched the Internet for a replacement vacuum cleaner. I'm lucky as I visit new houses every week and have road tested hundreds.
I've been impressed by the Seebo. So selected a vacuum cum carpet cleaner that seemed to be just the ticket. The only problem was the price really cut into the pot of gold that we are saving for our oil tank refill.
When Danny tried the Dyson again it purred into life and continued for a good half hour before it coughed briefly and filled the room with acrid smoke.
I had a brainwave. Why not try and find a replacement on Freecycle? The worldwide recycling scheme where people offer unwanted goods to others. I joined a couple of groups and discovered that there were two vacuum cleaners up for grabs. I quickly emailed the owners and waited for a response. A kind lady did get back to me a few days later but by then I had the repairing bit well between my teeth.
I toured the DIY repair sites on the Internet and discovered that someone in Australia had replaced the motor on their Dyson, with step by step instructions. I was pretty sure that I needed to replace the motor. So I rang Dyson and explained the problem. The friendly man on the line explained that I needed a motor and a filter. These came to around £47.00. Then he told me about the Dyson servicing scheme. For £65.00 (including VAT) an engineer would call, service the machine and replace any parts (except the accessories).
"It's possible that you need other parts so this could be a good option for you."
And it was. The engineer called and disassembled the cleaner in seconds. He went out to the van and bought back a large sack filled with the relevant spare parts. As for as I could see this was most of the moving parts – I've just had a quick look at the Dyson spare parts list and ours totalled just under £112.00. All guaranteed for a year of carefree vacuuming.
Due to certain laziness on my part regarding washing the filters, our Dyson had been a rather faded dust nibbling assistant for years. Now it was transformed into a dust chomping animal with a roar that had Danny rushing downstairs to marvel at the beast.
Hats off to Dyson.
Leave a reply