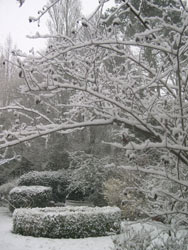 Emily (nearly eleven) sat back in her chair and announced. "Christians – the ones that practise Christianity and go to church – consider Easter to be more important than Christmas."
"Yes, I think that they do," replied my friend Clare from the depths of the kitchen.
"The egg is a symbol of rebirth. I like Easter eggs but actually prefer Christmas as there is Santa Claus."
For the first year ever D and I agreed not to buy each other Easter eggs. I must admit my heart dropped when he suggested the idea. There is nothing like breaking the shell and guzzling a really good egg. An indulgent, special treat that doesn't pile on the pounds like a monster bar of Galaxy. Most chocolate manufacturers do not approach their moulds with cauldrons of molten chocolate. But some of them do with prices to match so I can see his point.
Before I left for town to buy the eggs for the rest of the family I asked him if he'd like a small non egg present for under five pounds.
"There's nothing that I really want but please buy a small present for yourself if you see something when you are out."
"Why don't we pool our five pounds and buy a new milk jug?"
So I did. A perfect Denby stoneware example, reduced by ?10.
There is a sort of Easter Claus. He's not helping the Easter Bunny to distribute eggs and chocolate. Rather he is in the promise of spring. The germination of seeds. The new born lambs. The first sign of a crop peeping up through the mud. This is a magical time of year packed with freshness and life. So many things that you can't capture and put in a box with a cellophane front.
You need to be a bit older than Emily to appreciate them. What is the backdrop to Emily's Easter Egg hunt becomes the hunt itself for me. Here the leaves of the willow are unfurling. There the almond blossom is heavy in the tree. The snow falling this afternoon had Miles and I standing at the window lost in the beauty of the swirling flakes in a Cambridge park where I used to play as a child. Driving home, through the slushy rain there was suddenly sunshine and a rainbow.
And this evening we dined in style with The Chicken Lady's family. A long, leisurely, delicious meal. The start of a new friendship and time to chill and just relax. In their dining room we also were entertained by Blanche and Spartacus, a pair of snow white budgies that alternately canoodled and scrapped.
"We bought them because they had to be sold as a pair. Blanche had been bought separately and was returned after a lonely week as she pined for her mate."
Happy Easter everyone.
Leave a reply