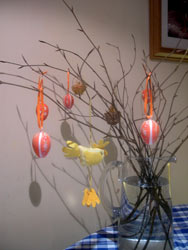 I have never made an Easter tree before. In fact I didn't know about them until I saw one at Carol's house. She had made it for her grandchildren to enjoy. And she loved it too.
A few weeks ago I chatted to Nicky who tends Anne Mary's garden.
"I always make an Easter tree. I used to pretend that it was for the children but now they've grown up I've realised that it was always for me."
Nicky added that if you leave the twigs in water they will eventually develop roots and you can plant these to make new hedges or trees for free.
Then I read this wonderful post on a good blog – finding simplicity that I have been enjoying recently.
I love the Norwegian tradition of cutting birch twigs and bringing Spring into the house a few days before Easter Sunday. The buds should unfurl into bright green leaves within a snatch of days. Put the vase somewhere warm a few days before the festival.
My tree doesn't have the traditional Norwegian coloured feathers. The branches are beech rather than birch. But it was fun collecting the twigs and it's the perfect opportunity to show off my friend Tessa's present of delicate, decorative eggs. I'm already impatient for the leaves to appear and also to find our large box of Easter decorations. Lost and cheeping soundlessly somewhere in the cottage.
Leave a reply