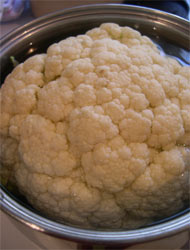 "Ohh," said Danny peering at a box of purple sprouting broccoli, "Will ours be ready soon?"
We were waiting at our butchers, Fred Fitzpatrick's. As I went through our list, Danny picked up a tired cauliflower.
"You can have that, Danny. It's too floppy to sell now."
Danny put it gently back. He didn't want a floppy cauliflower.
"Put it in some cold water and it will firm up," Fred smiled.
I'd heard about this trick for runner beans but never tested out the theory. So we took the sad vegetable home. We removed the green outer leaves and left in a basin of cold water. After a couple of hours it had firmed up a bit. We decided to leave it soaking overnight and by this morning it was rock hard. We were astonished.
So we will be feasting on economical cauliflower cheese and smoky bacon tonight.
Danny is particular about his vegetables. I have turned down brocolli in the shops for weeks now as it just doesn't feel firm enough to pass D test. I often chuck out broccoli that has gone soft. I'll try this trick next time.
Leave a reply