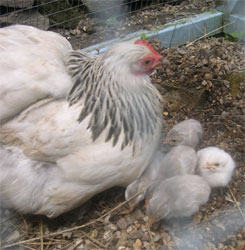 This is the fith update on Farming Friends' and Cottage Smallholder's interblog guinea fowl breeding event.
I lifted up Mrs Boss' wing on Friday evening and counted three chicks. Since then, it has been difficult to leave the vicinity of the run and get on with essential daily tasks, such as going to work to pay for the chick crumbs.
The final keet count is five. One pure white and four greyish with a grey brown stripe on their heads. I've studied picture of baby keets and can't work out what colour they are. There are thirteen Guinea fowl colours.
Despite being fifteen miles away from the nearest Mothercare, Mrs Boss seems to have adapted well to life as a cyberchick superstar adoptive mum. She is already getting grumpy when the paparazzi arrive (me, the dogs and the camera).
When she hears the Min Pins thundering past the run, I can hear her rapid clucking. This translates into
"Danger. Cameras. Dogs. Fiona. Keets to take cover".
Three Good Keets obey immediately but the little white one and her companion in arms stay out until the last possible moment and then dive under Mrs Boss's downy breast. Not being the brightest of sparks they don't twig that their day-glo orange legs are still on view. This keet version of musical chairs continues all day.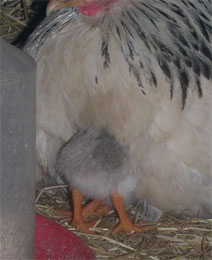 I sometimes shut the dogs in the house and creep down to the run. The keets are often playing in the pocket handkerchief garden with Mrs Boss attentive and close by. The snow white keet and her naughty pal have the most fun, flitting about just out of Mrs Boss's reach. They are observed by the Three Good Keets hovering under Mrs Boss's wing.
The keets will be named as we are not planning to eat them. We are having fun with this.
"The dramatic weather heralded the arrival of the keets. How about Lightening (white one) and Storm (white's friend) the quiet three could be Dew, Mist and…"
"Rain. Rayne, that's a girls name. I was thinking of poets. We have to have Keats and then there's Byron, Wordsworth…"
"But they are all men. What about a good mix of politicians, Ming, Mrs Thatcher, Charlie Haughuey."
"Which one would Haughuey be? Which is the really naughty one?"
At this stage Danny always turns over and falls asleep.
Leave a reply