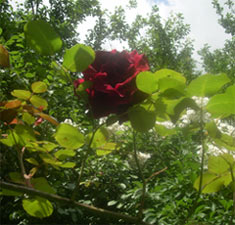 I realised that if I bought leaf tea rather than tea bags I could save a bit of cash and also use the sweet little tea spoon that I inherited from my grandmother. It meant a week of drinking some rather elderly mango infused tea to finish the caddy. I stuck it for a couple of days and put the rest in the compost bin – it is supposed to be a fertiliser after all.
We discovered that the loose tea leaves were packed with far more flavour than the same type and brand of teabags. But dealing with the tea leaves was going to be a bit of a palaver.
Remembering that my mum used to put the tea leaves on the soil under the rose bushes, I have been feeding the rose that grows outside the back door with the leftover tea and leaves. The clematis that grows through it, a weedy specimen that has drifted waif like through at least ten summers, has perked up considerably. And was clearly longing for tea rather than good plain water. Admittedly it's in a rather dry spot.
"I'm sure that it would thrive on whisky. It's the moisture not the tea." Danny was examining the miniature forest of new stalks and leaves.
"The rose is looking much happier too."
The rose, has always been stick like. A Kate Moss amongst roses. With most of the growth at the top of slim stems. Now new buds are forming lower down. Fired with enthusiasm, I cut out all dead growth at lunchtime and watered it well.
I looked up the benefits of using tea as a fillip for the garden and discovered that it's a natural fertiliser for roses and a host of other plants including parsley. In fact most plants would benefit from a top dressing of tea leaves even the ones emptied from old teabags.
Leave a reply