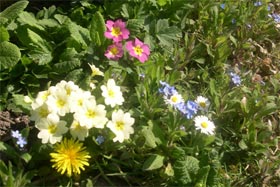 Danny used to say that he didn't buy me flowers because I would think that he was having an affair. Despite assurances and numerous gentle hints, his trotters were in. So I always bought my own flowers until January 2007. Then I decided to try and not buy any for a whole year. I am noticing and enjoying the flowers in the garden much more as a consequence and picking these for the house.
We have been so busy lately that I missed the boat on the March Flowers From The Garden post. I picked daffodils (we have early and late) from the garden and mixed them with forsythia and cerise japonica flowers. This gave me a much more substantial bunch than the tiny posies for January and February.
I don't know whether Danny is having an affair but he has helped during the real cold turkey times when I have to be blindfolded and led past the flower displays in the supermarket. He has bought me two lovely bunches of flowers.
As the late daffs are fading, tulips have opened. Tiny scilla are scattered in a bed near the back door and in the shady areas of the garden the bluebells are just about to flower.
But it's this little patch that has given me the most pleasure over the past ten days. Entirely self seeded and right beside the front door to welcome us home.
You may be wondering why I have not weeded out the dandelion head. We make a good dandelion wine so they are allowed to flourish for the next few weeks. We pick a bucketful and then its war. And the daisies? I love them until they start to take over the lawn and then they are dug up and polietly asked to leave.
Leave a reply