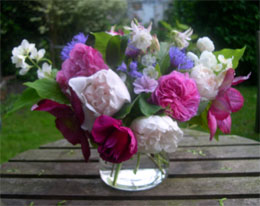 It seems longer than four months since I last bought flowers for the house. I'm still finding it hard to keep my vow not to buy any for a whole year. For the last couple of weeks we've had no flowers indoors, from the garden or anywhere else. I've been returning from work too late to drift into the garden with my secateur. And, I suppose in a way I had lost heart.
Last weekend I visited one of my favourite private flower stands (on Duchess Drive, Newmarket). I had surreptitiously spotted that they were selling Sweet Peas a few days before. My mother was ill and she loves these flowers. I bought her a couple of bunches and shot home to wrap them in a water soaked cloth. Fraternising with cut flower growers was hard. I have been avoiding their stand for ages, trying to cut down the angst by taking the alternative route into town
All summer, these talented flower growers usually keep the cottage brimming with flowers for three or four pounds a week. This is not a labour of love. The Flower Grower Wife quite often springs out from behind the hedge in mid-summer, when flower buying is at its height. When she twigs that I am actually buying her flowers and not stealing them or her jam jar of cash, she is friendly. My heart goes out to her. The flowers are 50p a bunch.
The scent of the Sweet Peas was glorious on the drive to Cambridge. I seriously considered driving back to the stand to buy some more and pretending to Danny that they were a present from my mum. But how could I explain that an 87 year old housebound parent with severe vertigo could have left her house to find these flowers?
This evening I drifted into the garden to find some flowers. I wander though the garden every day but had not realised the abundance that is apparent when I loked closely. I was amazed that the handful I took filled this vase and another one too.
There are seven different roses, philadelphus, clematis, aquilegia, cornflowers, perienial geraniums, and the last bluebell.
Leave a reply