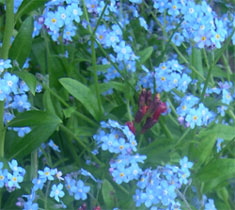 Forget-me-nots really come into their own when they self seed. They just don't seem to work when they are sown and transplanted. They need to find their own place and more often than not appear beside a perfect companion and astonish me.
If you don't have any, scatter some seed around your garden and they should grow. Within a couple of years they will surprise you.
They are part of large Boraginaceae family. This includes Pulminaria, Borage, Helitorope and Comfrey to name just a few. Most of this family share the same attribute – hairy leaves. These are not obvious but when you are next in the garden with a moment to spare, take a look.
Forget-me-nots are at their best in the spring but they will self seed and there will be a second flush during the summer months. They are happy in both sunny and shadier borders and easy to pluck out if they are invading a special space, earmarked for something else. They can look stunning in a vase. When the spring ones get a bit old and scraggy rip them out and give them a good shake over the border to broadcast their seeds.
They pop up all over our garden. I spotted that they had started to drift into the raspberry patch this afternoon. A gentle reminder to mark the early summer flowering canes immediately so I can sort out the mixed patch later in the year. We now have ribbons on the canes below the rounded buds.
I always welcome the forget-me-nots. The frothy drifts of small blue flowers are stunning and remind me of summers past. They also prompt me to stop, look and enjoy the moment. And that's what gardening is all about, enjoying the moment whilst creating a future.
Leave a reply