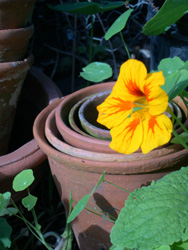 I love this time of year, everything winding down from the rush of the summer. A sunny day seems so much more precious now that the days are shorter. I was down in our kitchen garden this morning planning to lift two rows of shallots. I knew that I should have lifted them in August but assumed that they would be happy to be left in for a few more weeks. It was difficult to spot them at first as the nasturtiums have romped across half the vegetable patch. When I did find them they were disappointingly small and had started to sprout. What a waste.
We usually dry and plait them. These hang in the kitchen in an airy spot. They last right through to the following summer. If only I had taken half an hour to lift them. I was so despondent that when I got back to the house, I went onto the internet to find a use for the sprouting sets.
Shallots can be planted in the autumn or spring (how do I plant shallots? See Tricks and tips below). We plant in both seasons, buying the sets (bulbs) from our local garden centre. I perked up when I discovered today that you can save shallot bulbs from your harvest to plant as sets. So I'm going to divide up my bulbs and use these as sets for a couple of rows at the weekend. I'm going to try one row of sprouting bulbs and one row of non sprouting. I'm not sure how well they will do, as they are not dried sets. Hopefully they'll take but if they don't I can plant more sets in the spring. Incidentally, our autumn shallots are not ready for lifting before the summer but autumn planted shallots are supposed to do better if we have a long hot summer.
Tricks and tips:
Shallots thrive on fertile soil, so spread a decent amount of rich compost from your compost heap over the soil and dig in well.
Plant the bulbs six inches apart in rows one foot apart. Gently press the sets into the soil so that the papery tops are just peeking out from the soil. Be careful not to damage the root system at the base of the bulb.
Birds love pulling up the sets so I protect them with a tunnel of chicken wire, anchored into the earth with four inch wire stakes.
Each set will produce several shallot bulbs. When the green tops die down, lift the crop and dry outside for a few a sunny days or in an airy shed.
Leave a reply