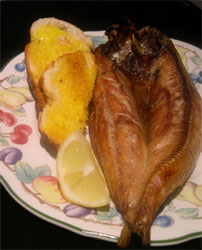 Following my post on Craster Kippers, I discovered from Dan at the River Farm Smokery that not all kippers are hot smoked. He had offered me some large olive cans for the kitchen garden so we popped into the shop buy some treats.
There were packs of Scottish kippers – ingredients: herrings, salt and oak smoke. When I unwrapped them the next day their flesh was pinkish. We grill Craster kippers for eight minutes.
I wasn't sure how to cook these so I put them under a low grill 130c for 14 minutes (skin side down) and served them with a chunk of lemon and warm buttered toast.
They were delicious with a definite delicate herring flavour. Brilliant. Thanks Dan.
Leave a reply