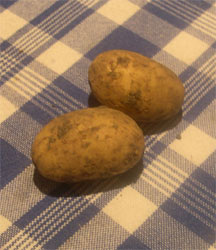 As a woman, I move in a strange world. Filled with ladders, vans, dust, men and the occasional dog that observes me closely as I pass by.
There are very few women at the builder's merchants where I buy my paint. In fact I have never seen one buying anything alone. A woman is always accompanied by a man.
So my progression in the builder's merchants from Oddity to UBOK (Unusual But OK) has been a bit of a rocky one. Finally, after five years, I know and like the guys behind the desk. We chat when I need to have paint mixed. Sometimes about paint (yawn) but often about other things.
"Do you know how to get your own new potatoes for Christmas?" Roger asked as he swung the hefty can into the paint mixer and focussed unblinkingly on my face.
As I shook my head I imagined the answer would involve an oil drum and loads of earth and patience.
Wrong.
"When you dig up your new potatoes, divide them into two piles. Wash and cook one pile. This is the taste that you will be enjoying at Christmas. Put the other pile of uncooked, unwashed new potatoes into an old biscuit tin. Fill it with sand (silver sand. The sand that you'd use for a children's sandpit. Rather than sharp sand, it's builder's sand and far too salty). Bury the tin fairly deep, three feet (100 cm). Dig it up on Christmas Eve and you will have perfect new potatoes for Christmas Day. They will taste as fresh as on the day that you buried them."
I haven't tested out this tip but I'm going to give it a go.
As I was imagining the steaming new potatoes in a dish on our Christmas table, Roger changed up a gear whilst the dot matrix printer flexed its muscles to produce my invoice.
"I used to grow loads of veg but having children I had to think lawn. So it's mainly lawn and flowerbeds now. This year, I rebelled and I've just grown carrots in a big tub. They're terrific." His hand hovered above the counter to indicate the height of the massive tops.
"Have you heard about the rhubarb trick to avert the problem of carrot fly?"
I hadn't.
Secret method to be shared soon.
As I walked away from the desk he called me back.
"You know when you dig up your potatoes you get those teeny ones?"
A well known builder nodded from the queue.
"Well, be gentle, don't dislodge them from the plant and just replant the plant plus the tiny potatoes. Water them well and you will have a second crop in a few weeks time. Easy if you know how."
Roger, you are a star. Thank you.
Leave a reply