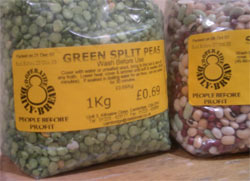 "If we set up a co-operative food buying scheme you might find yourself having to deal with Frog Face."
Danny's voice drifted across the duvet.
Frog Face is one of a few people that I dislike in the village. He gave me the reverse V sign when I was collecting for Kidney Research one year.
"He'd claim that you short changed him. And what about The Weevils? They'd never trust your scales. You can't start a cooperative and ban people that you don't like."
The night before we had plotted for hours. We tentatively planned to start a food cooperative in Cheveley with a handful of key members who would take responsibility for organising and running the project. As the red wine raced through our veins it seemed like a great community spirited idea and a good way of cutting our weekly spend.
In the cold light of dawn I had woken and fretted about collecting the money, the problems of deliveries getting wet when they were left on doorsteps on a rainy day. And how would we accommodate truck loads of goods, find the time to repackage and deliver them? If the scheme was successful it would have an impact on John's business in the village shop. It was a relief that Danny was having second thoughts too.
"Why not see if there's a local cooperative that we can join."
A brief sojourn on the internet threw up a list of local Co-Op shops in the region. There were no small groups. Then I found a project in Cambridge (Kings Hedges) that sells food wholefoods for a small profit. Daily Bread is a workers co-operative founded on Christian principles. It employs many people with a history of mental illness and learning difficulties.
I was working in Cambridge on Saturday so Jalopy and I nosed into the Daily Bread car park. Most products were much cheaper than Tesco or Waitrose. The shop has a wide range of wholefoods, organic food, cleaning products, fair trade items and the widest range of flour that I have ever seen. There are also real nappies and baby products. I have been searching for fenugreek for months and finally discovered it there.
Apparently quite a few customers travel up from London to shop at Daily Bread. It is open from Tuesday to Saturday and well worth a visit if you are passing.
We have had fabulous comments and suggestions on our first saving money in 2008 post and are already investigating the idea of veg box deliveries and having a supermarket delivery every other week. We couldn't give up our weekly visit to our butcher, Fred Fitzpatrick. It's fun and his meat is great value.
I already feel much more empowered and excited about the challenge.
Leave a reply