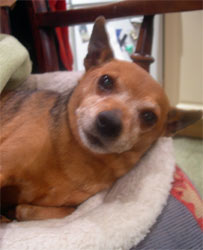 I've always been touched by those wonderful tombs in churches and cathedrals all over England. The wealthy couple lie formally side by side, uncomfortably on their backs. At their feet, one or two little dogs lie for warmth and company.
After a brief glance at the faces of the couple it's always the dogs that draw my attention. Quite often these dogs have clearly inspired the sculptor. They are full of life – perhaps they had dogs of their own that dived under the covers and warmed them on a freezing night.
Our resolution not to turn on the central heating until the first frosts is beginning to bite, now that the nights are getting chilly. We have several hotties complete with covers, knitted by my mum. These have become the household's best silent huggable friends.
If you have no heating upstairs, three warm Min Pins are a boon. Combined with a couple of hot water bottles you have a small furnace.  The Min Pin element stays warm till dawn. They are initially attracted by the intense warmth of the hottie and suddenly your tiny medallion of heat expands. You do need to negotiate three sets of tiny paws sharing the hottie if you want to defrost your feet but generally it's not worth the effort as the lolling Min Pins seem to warm the entire bed. Canine radiant heat is a wonderful by product from the gang that welcomes me home each evening with the prospect of supper.
Having cleared the chimney of nests and repaired our wood burning stove we now bask in a wonderful heat downstairs. We are tweaking and learning about the best ways to use the minimum fuel for the maximum heat. Sometimes it roars and devours like a dinosaur possessed. Sometimes it whispers and flutters like a demoted fund manager.
"It might only be burning one log an hour but I'm cold."
The muscles on Danny's poker wielding arm have grown quite hefty.
On the saving money front, September was a good month. I step out of the cottage with an ultra slim purse on a Saturday and we're not missing the deluxe treats of more halcyon days. We've started to run out of basics now but it makes us a bit more creative with what we have. Spending slashed by 60% this month. The fuel price hikes have been frightening but it's worth the effort as we can buffet the waves that would have demolished us a year ago.
And that's quite scary.
How did we do it?
Always visiting what our friend Tessa calls the 'Casualty Department' in Tesco before starting the full price shop – one week I actually managed the weekly shop from there with the exception of butter and milk. A menu plan might have scuppered this triumph.
Making our own bread – the price tag of £1.59 (same store) for a loaf of bread finally made me grit my teeth and buy dried yeast and flour.
Forcing the Sunday joint to stretch to three rather than two meals.
Giving up our Friday rib-eye steaks (sob).
Reducing trips to the local town to a minimum.
Switching off lights until our arms ache.
Cooking more vegetarian food.
Eating our own home grown vegetables.
Not using the oven unless we can fill it (thank you Angela for suggesting the slow cooker).
Searching for breaks and possible swaps – this could be selling our preserves, bartering or just cutting a good deal at the butchers. A small pack of home cured, traditionally smoked bacon opens a lot of unexpected doors.
Leave a reply