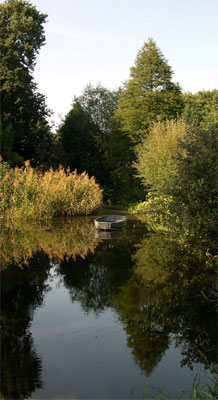 My sister, Sara, gave me a birthday treat today. We went out to lunch and then on to visit this famous magical English garden.Whenever I think of this garden, it's the ponds that I remember. Vast stretches of water surrounded by water loving shrubs and perrenials. Exotic plants loll in the shallows and the architectural giant, gunnera, gives the pond garden a real Alice in Wonderland feel. We chatted and looked and breathed in the garden. We spotted some grey fish with a red flash on tail and fins. Leaving the ponds, we strolled through the woodland garden. A tame squirrel pottered past in the dappled shade.The innovative planting and paths give this garden a private feel. I was hardly aware of other visitors. This is definitely a place to dive into and lose yourself.We had set out on the same trip a year ago when I borrowed Danny's comfortable car. Feeling generous, I filled the tank with petrol. Within half a mile the car stated to puff and gasp a bit. We thought that it must be dirt in the carburettor and drove on. We hobbled past Bury St Edmunds in the slow lane and finally drifted to a stop on the hard shoulder. I dialled Danny's mobile number.
He was resting on his garden swing seat with The Contessa, our lady Min Pin. I reprimanded him for letting the petrol get so low in his car that dirt had clearly fouled the carburettor. He calmly replied, "The car runs on diesel. Let me call the breakdown service." It was an awkward, awful moment. I had heard horror stories about buffoons mixing petrol and diesel and I hoped that D hadn't heard them too.
Sara and I settled on the dry grassy motorway bank with our picnic lunch, sun hats and newspapers. We were quite happy in the blazing sunshine for a couple of hours, as the traffic roared past and the crickets sang in the long grass. Now and then we saw a breakdown truck on the horizon but not one stopped for us. Feeling a bit crouchy, I didn't want to pester Danny who was probably searching the internet for a prognosis on the petrol/diesel mishap.
After three hours we got a call from Danny. The truck was on its way. Apparently, the driver had not been able to find our car and had called D's mobile. Danny had fallen asleep in the shady swing seat on that hot afternoon. He got the message when he opened an eye, two hours later.
Today, I thought it best not to ask for D's car as he was working in London. I woke long after he had gone. My treasured matt red jalopy, with the wonky bumper, was missing from the driveway. There was a card on the kitchen table. I ripped it open and read, "Your first birthday present is my car for the day". My hand was a little shaky as I filled it with diesel.
We finally reached Beth Chatto's garden. It had taken a year but was well worth the wait.
Leave a reply