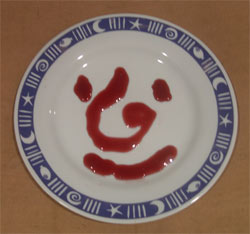 I had promised Margaret a jar of our Sloe and Bramley Jelly – great for adding to casseroles, brilliant with game. The sloey edge gives it more bite than a conventional jelly.
I gave her a large jar of our Apple Chilli Jelly instead. She looked flummoxed and examined the label.
I explained in one embarrassed word.
"Iwasmakingthesloeandbramleyjellyanditfailedit'slikerubber."
It was probably a mistake to ring my mother when I was making sloe and Bramley apple jelly. She likes to chat and muse about life. Usually I am quite good at multi tasking but making jelly needs 100% concentration. A few minutes after I put the phone to bed I discovered that I had created a jelly that could be made into cricket balls for the next England International match.
I was regretting the phone call during jelly making when Margaret remarked,
"But Fiona, you can turn it round."
My antennae revolved with a click.
"Just make up more juice. Add it to the rubbery jelly. Heat it very gently, stirring from time to time until the jelly has combined with the juice. No Need to add sugar. Just proceed as usual, bring it to a rolling boil and test for set every couple of minutes."
I did this and it worked! And the best news is that by adding a pint of sloe and Bramley juice and no more sugar means that the jelly is a lot less sweet. I will definitely cut down on the sugar for my next batch of sloe and Bramley jelly. If you are making this now, I reckon that you could cut the sugar in our recipe down by 20%.
Why not reduce your carbon footprint (sugar wise) and make our recipe?
Leave a reply