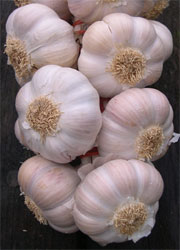 Our friends Jocelyn and Miles have a house in France. They worked there for years and have kept it on as a retreat. Like the French, they love to eat out and one of their favourite local restaurants is run by a gloomy individual called Monsieur Misère. I was intrigued to meet this fellow who bobbed and smiled as we crossed his restaurant threshold. When he realised that our French wasn't quite as fluent as our friends', we were relegated to fourth division and tolerated with that polite distance, usually reserved for unruly children and uninvited pets.
On the food front, I would have happily shipped Monsieur M back to the cottage, saucepans et al. Course after course rose headily over his curt disdain. The piéce de resistance was his starter of baked garlic. Looking back, I remember the shock of the first soft mouthful with a dreamlike clarity. The crisp tablecloth, the strange lighting in the echoing room, the quiet family celebration at the next table and the unexpected welcome of this truly exceptional dish.
One word of warning. We all ate this starter and spent a happy weekend together. If one of us had chosen a different dish, the weekend could have been ruined without a gas mask.
Jocelyn braved a tète a tète with Le Misère to glean the recipe and passed it on to us.
Jocelyn's Baked Garlic (for four)
Pre heat the oven to 180c/160c fan
Ingredients:
4 large heads of garlic (the big French ones are best)
6 tbs olive oil
6 tbs water
Large sprig of rosemary
mild soft goats cheese (to serve)
Method:
Cut the top and bottom off the garlic heads. This will expose the tops and botoms of some cloves. Carefully snip the papery tip of each clove, so as to expose the top of each remaining clove.
In an ovenproof dish (just big enough to hold the four heads of garlic) make a foil nest and add the water to this nest.
Pop in the heads of garlic, pour over the olive oil and press the rosemary between the garlic heads.
Tightly seal the top of the nest with a foil lid, leaving some space betwen the garlic and the top of the nest, for the air to circulate. Bake for 30 mins.
Remove the lid, baste the heads with the juices and bake for a further 30 mins.
Serve with mild goats cheese and fresh brown bread (home made soda bread or the excellent Irish wheaten loaf available from Tesco).
Leave a reply