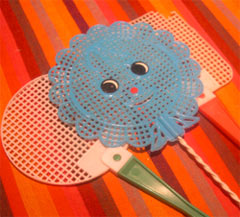 Danny doesn't kill things. Ants, wasps, caterpillars and slugs are all given a free range in our cottage and garden.
When his car pulls out of the drive I attack the pests that are destroying our stuff. The ants and wasps initially and then it's a leisurely stroll down to the kitchen garden with a bottle of beer. To top up the complimentary bar in the slug traps.
There is one creature that D hates and encourages me to destroy. Sociable and busy creatures they move swiftly from manure to the kitchen sides and never, ever wash their hands.
The loathed flies haven't challenged me much this monsoony summer. But it only takes a long sunny day to tempt them out from under their umbrellas and in through the back door.
By the evening the kitchen is full of flies looking for fun. They are dancing along the top of my laptop and driving me nuts. I grab a swat from the ultimate collection – and sit waiting for my quarry to ramble across the kitchen table. This generally doesn't work. Just reaching for a swat has flies disembarking from the tablecloth and dropping on the floor in an instant. They rise with me and climb like the Red Devils, with a taunting close buzz in my ear before speeding away amongst the beams.
Pursued flies tease like WW2 pilots on secret missions. Whizzing through the air with such superb grace and agility it's often hard not to open the back door, swish them into the darkness of the garden and a second chance.
I have done this and within minutes they have crept back silently through the vintage cat flap into the kitchen to settle and perambulate on my keyboard. Here all flies have diplomatic immunity as I don't want to swat the keys and possibly lose my work.
Hunting them on foot, swat in hand is the best way to send them quickly to fly heaven. In my fly swatting prime I often came home from work and nudged the world record in a matter of seconds. In those days I had a half a dozen swats hanging on a rack, desperate to see some action. Now I'm down to just three swats (the one with the face is purely ceremonial).
My favourite blue swat has vanished. This was a Swat amongst Swats, removing intruders with a waft and a swish. Eventually I came to the conclusion that flies cannot see blue until it's so near that it will close those compound eyes forever.
If you want the thrill of the chase, chose a red and white swat. I'm not sure whether the corner of mine was chewed by a Min Pin or by me in a moment of absorbed frustration. Those who dispatch a fly with a red and white swat are super sportsmen. Fly swatting – during a long hot summer you can lose pounds.
Leave a reply