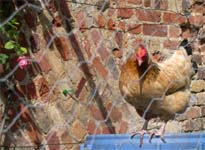 We have kept chickens for three years and we love them. A lot of my clients keep chickens and I got the longing from watching them. Danny was encouraging but I overheard him telling his brother to make the run no taller than 5'4″, my height, so as to avoid chicken cleaning duties! I didn't care and still don't. I quite enjoy cleaning them out each week. There is definitely a Wendy house element in keeping a small flock.Ideally, chickens are locked up at night but allowed free range during the day. Unfortunately our min pin dogs are expert assassins so free range was out of the question. We decided to construct a long run 30 x 6 feet, to give them a reasonable amount of space to live in. D's brother was over from Dublin at the time and offered to make the gate and set the posts for us. He cheerily assured us that all we had to do was link the posts with timber cross bars and cover the run with netting.
We nearly divorced over this.
We had ordered the chickens but the construction of the run took far longer than we had estimated. We were working at night under torchlight. The staples that tied the chicken wire to the structure were tiny. The cross bars were bendy. Trying to strike the teeny staples into the bouncy cross bars was nail-shatteringly difficult. We managed to finish the run the night before collecting our new friends.
For the first few weeks we spent hours watching their antics. My mother dragged a garden bench up to the run so she could combine reading The Times with goggling at the unfolding chicken soap opera. They still entertain me enormously and I'm sad when one dies, as two did in the first year.
Tips and tricks:
I now realise that a winter and a summer run are a good idea if you are keeping chickens in a small space. This is more hygienic and gives the ground more time to recover
Buy the biggest feeders and water fountains that you can find. This means that you shouldn't have to feed and water them every day. I do check they're OK every morning and evening but I know that they can survive if plans go wrong and they are left alone for a day
Chickens are not the smartest of creatures but they do get bored. If you can provide distractions they will are less likely to bully each other. These could include:
Alternative shelters (there is generally a chicken that is ostracised)
Regular scraps from the kitchen
A bucket full of grass clippings when you mow the lawn
A few bags of gravel scattered in the run in the winter both stops chickens becoming mud bound and gives them something to scratch about in
Leave a reply