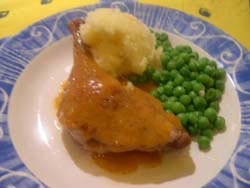 I often turn my collar up and haunt the condemned food section of Tesco. Sometimes I bag a real bargain. Often I find duck legs. The first time I swanked home with this gem Danny was forthright.
"it's all very well bringing home cut price stuff but do you know how to cook duck legs?"
I had no idea.
"Of course I do." My mind whirled madly. "I'm going to cook them slowly with apricots."
His head remained cocked to one side.
"And wine."
We were both stunned that I could so easily pluck plausible ingredients out of the air. He humped off upstairs and I beetled nervously into the larder to find some dried apricots. On a shelf I spied a small tin of apricots in fruit juice and this heavenly dish was born.
We have tweaked the recipe over the years and return to it when we want a treat without tears. It works well with all 'bone in' duck portions and is at its very best with duck legs. Like all secret recipes, it tastes as though you have been slaving for hours. Lots of depth and sophisticated flavours.
We tried it with chicken but it does not work. It seems that the duck juices combine best with apricot for a magical result.
Ingredients:
Two duck legs
Four sprigs of thyme
Small tin of apricots in juice (not syrup)
Splosh of white wine (optional)
Seasoning
Slug of cooking brandy (optional)
Method:
Preheat oven to 200c (180c fan).  
Place the duck into a small ovenproof container that has been scattered with half the thyme.
Pour the apricots and juice over the legs, pushing the apricots well down around the legs. The legs need to be islands in a sea of juice and wine
Tuck in the rest of the thyme.
Put a small glass of wine (3 tablespoonfuls) over the legs. Don't cover the legs completely with wine and juice – the meat above the liquid will brown. Put the dish (covered) in the centre of the preheated oven 200c (180c fan) for 45 minutes.
Remove the lid from the pan and turn the heat down to 180c (160c fan) for 30 minutes until the duck legs are tender and brown. 
Remove the duck to a warm place whilst you liquidise the sauce – it takes seconds with a hand blender.
Reduce the sauce by simmering on the hob, and add a slug of cooking brandy.
Pour the sauce over the portions of duck and serve with creamed potatoes and peas or green beans.
Tricks and tips:
We've tried thid dish with apricots in syrup and it didn't work nearly so well
Peaches in fruit juice are a good alternative. And now we have a great recipe for duck legs with a fresh mango sauce.
Leave a reply