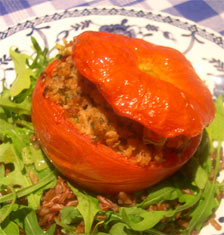 My mum tried Soya mince once and never again. I can still remember the shriek. Danny's mum also tried it once. Perhaps they read they same article.
About a month ago I was tootling around the Daily Bread Cooperative with my mum. I spotted a shelf of Soya products and was about to accelerate past when I thought I'd stop and investigate. Soya is gluten free and packed with protein, vitamins and minerals. It's a high yield product, so it's cheap. They were offering Soya mince and chunks (these seemed to look a bit like dog food) so I chose the mince. The 550g pack was only £1.09.
A large sign informed me that I would need to add flavour, such as yeast extract or vegetable stock powder. I was intrigued and quite excited by the prospect of playing with flavours. Surely this couldn't taste as foul as it had been when we were children.
I decided to experiment with the dish on an evening when I had some standby food, just in case.
50g transmogrified into a 500g of jug of 'mince'. I had fun adding the flavourful ingredients. As I wanted a beefy sort of taste I started by adding a little Marmite, vegetable stock powder and a dash of red wine. A handful of chopped parsley lifted the 'mince' and a couple of heaped teaspoons of olive tapenade (Waitrose – green olives, coriander and lemon) gave depth. Finally I stirred in three tablespoonfuls of passata and a dash of garlic granules. It tasted great.
I stuffed some chunky tomatoes with the mix, drizzled them with a little olive oil and baked them for 15minutes at 190 (170 fan). They were delicious, served on a bed of Camargue rice and wilted rocket. The stuffing had the texture and flavour of herby minced beef. The next evening I used the rest of the mixture in sweet Marmara peppers. Excellent.
This is a great long life store cupboard meal for someone on a budget or pressed for time. As it contains no fat, Soya mince is worth considering for people on a low fat diet.
So the bag of Soya mince proved a good investment. I can't wait to road test the chunks.
Leave a reply