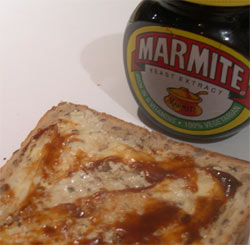 I used to always buy small jars of Marmite. I didn't lavish it on bread every day so it seemed the sensible choice. But these dinky jars easily get lost in the larder.
When the Marmite Deamon took over I often couldn't find the jar. I would carefully search each shelf and finally tear the larder apart. Eventually, two days later, I would discover the jar skulking behind the kitchen roll. Danny always got the blame. A bit unfair as he hates Marmite.
When I discovered that he really didn't like Marmite I questioned the relationship (early days blip). How could I live with someone who didn't like my ultimate comfort food?
Then I realised that I had someone rather special in tow.
Living with Danny means that my Marmite jar is rarely plundered. He has discovered that it can be used in cooking and adds it to Anna's onion gravy.
I now buy large jars. Great for the short sighted and never lost. This evening I had toast and Marmite for supper. D was away and it filled the gap perfectly.
Leave a reply