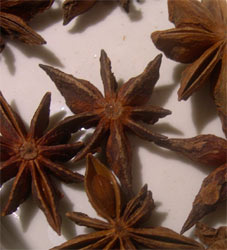 Star Anise look so pretty. When I spotted them in herb and spice section of the Daily Bread Cooperative I had to buy them. I'd never used them before so had no plans for their future.
I tossed four into some 10-minute soup that I was making.
"What are these?"
Danny peered into his bowl and lifted one up with his spoon. The soup tasted vaguely reminiscent of spiced aniseed balls in gravy. So they have stayed in their jar in the larder door waiting to make an entrance in someone else's recipe.
Last night I found a cut price rack of mini ribs in Tesco and discovered Nigel Slater's wonderful recipe on the BBC food site. As Danny is still away, it was the perfect recipe – he hates honey in cooking too, or at least he used to. My rack of ribs were a third of the weight of the ones in the recipe and I made half the sauce. I baked them for 50 minutes in a foil covered dish and then browned them for a further ten minutes under the grill. The sauce didn't taste of aniseed or honey – just sweet and exotic.
The ribs and the sauce were unbelievably good. Wolfed down in a few delicious sticky minutes with steamed white rice to soak up the juices. I'm going to make these for D, he'll love them if I don't mention the ingredients.
Leave a reply