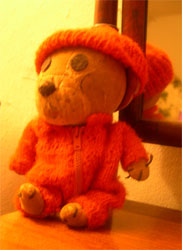 This little fellow lives on the dressing table in our bedroom. I was given him for Christmas when I was seven. He is called Anatole. I had read the name in a book and imagined that it was pronounced Anat-tolee. He arrived with a wardrobe of clothes that my Mother had made for him. Each outfit had a small hole for his tail to go through. This snow suit doesn't have a hole. Perhaps my mum reckoned that the tail would be warmer zipped inside the suit, when he ventured out in frosty weather.
Anatole was the companion to my favourite toy, a small plush pig with floppy ears, adventurously called Piggy. Piggy had been given to my older sister when I was three. When I first picked him up there was an instant connection. Sometimes she would let me play with him and I longed for Piggy to be mine. My sister didn't play with him much. I fostered him while she was at school during the day. He was my partner in arms, shared my triumphs and salved my woes. I hated having to return my companion at the end of the day. It became unbearable.
Aged four, I hatched a plot.
I reckoned that my sister wouldn't like a maimed toy. I loved Piggy so much that I knew I would still love him, whatever happened to him. So I am ashamed to admit that I deployed my mother's dressmaking scissors. I remember explaining to him, "This might hurt but it means we will be together forever." Very gently, I cut off Piggy's ears.
I can still hear the whispery swoosh of the sharp scissors. Piggy was brave and didn't flinch. He looked rather cold without them. I found a miniature bobble hat, an egg cosy knitted by my mother, to cover the area where the ears had been. I cosseted him all day and his boot button eyes stared right back at me. Trusting and loving, just as they had always been.
My sister shrieked when she removed the hat. Suddenly "bald" he didn't look nearly so cute. I was sent to bed early in disgrace. After a few days she handed him over and the adoption became official.
Years later, I got my comeuppance. Piggy lived in my nightdress case when I went to boarding school, transmogrified into a mascot (but still secretly my friend when times were tough). One day he vanished, probably a victim of gang warfare ("We'll hit her where it hurts. Make sure that you snatch the toy.")
I was gutted. And all these years later occasionally wonder what happened to Piggy.
Leave a reply