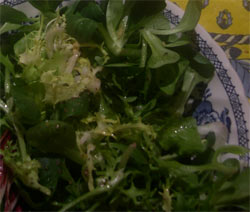 I'm working for my American friend Mike, down in Saffron Walden. We're both busy so lunch is brief but always interesting. A couple of days ago he opened a can of tuna, mixed it with lashings of black pepper and a couple of tablespoons of mayo. He spread this on elegant crackers, put a thin slice of giant tomato on top and drizzled it with some homemade dressing that he grabbed from the fridge. Watching anyone prepare food is always interesting. If I am hungry, the process has an extra allure.
Meanwhile I was heating up some Skinflint Soup. When Mike heard the name, he focussed on his canapés. I think that he was preparing to force down some sort of workhouse gruel, without gagging.
Tuna is a fish that I crave sporadically. I had tasted the crackers – they would win first prize in the Edible Egg Box competition. Very, very dry.
So we both sat down expecting little.
Mike's giant canapés were excellent. His dressing gave them the final, delicious touch. He tasted the soup and smiled.
"This is good. I reckon that you need to ring your marketing department and get them to reconsider the name. Skinflint just wouldn't sell. Even to Wilma Flintstone, on a diet."
"But she was pencil thin."
I thought about Mike's great dressing as Jalopy and I negotiated the wafts of thick fog on the drive home – why hadn't I asked for the recipe? We have rediscovered salad leaves since we started our alternate day Veggievore diet. As we have nothing coming on in the greenhouse, I have been buying the leaves from the supermarket.
I have got so lazy, just a splash of extra virgin olive oil and some good balsamic vinegar or lemon juice. Easy but not wildly appetising. I hate to admit it but my attempts at running up homemade dressing have been disapointing in the past.
Inspired by Mike, I made a great dressing with some nut vinegar that my mum gave us quite some time ago. This is a French white wine vinegar infused with "walnut aroma". She bought it from the kitchen shop at Snape. In her haste to remove the price, she also removed the sell by date. So it has happily lurked on the kitchen side for a couple of years and is still very tasty.
We loved this dressing. Sharp and slightly smoky, the perfect foil for vegetarian shepherd's pie, fish pie or anything that calls for a salad with a little more zing.
Olive oil and walnut vinegar dressing recipe (for 2)
Ingredients:
2 tbsp of extra Virgin olive oil
1 tsp of walnut vinegar
A pinch of salt
A lashing of freshly ground black pepper
Quarter tsp of Dijon mustard
Method:
Add all ingredients to a small jug. Stir rapidly to mix. Pour over salad leaves.
Leave a reply