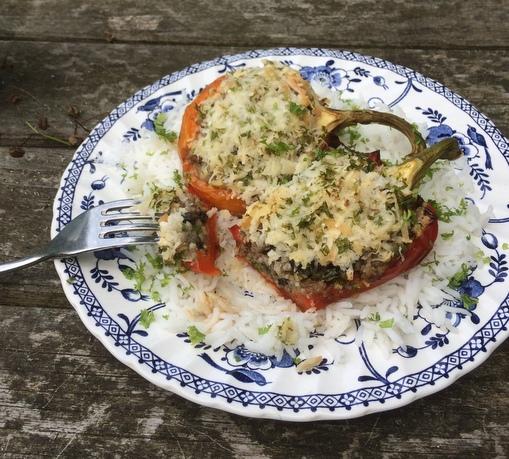 I make a lot of Italian style sauces. To accompany pasta, stuff vegetables and even to top with mashed spuds for a comforting supper.  I also make a more traditional filling for shepherd's and cottage pies. All these sauces and fillings are made in large batches frozen in flat one portion sizes that can be defrosted in minutes in a saucepan. Until yesterday all the Italian style sauces that I made were tomato based.
Everything changed when I scored 500g of high welfare veal mince for a song on the *CFC. I pondered what to do with the mince. I love tomatoes but I wanted to create a new sauce without them. A sauce that was tangy, lemony and light. A sauce that would work well with or without cream. A sauce that would celebrate the delicate flavour of the veal.
I'm delighted with this sauce. It's delicate and summery. It will have a myriad of uses from a dainty supper – in a ramekin – topped with creamy mashed potatoes to layering between sheets of lasagne or filling cannelloni rolls and ravioli. I reckon that the sauce would work very well with pork mince too.
This sauce doesn't look very appetising so if you are going to use it as pasta sauce I would suggest stirring in a tablespoon or two of cream or crème fraiche per portion a few minutes before serving.
The sauce will fill at least six average sizes sweet peppers if not more, or give six decent individual portions of pasta sauce.
Recipe for the Veal, Mushroom and Tarragon Sauce:
Ingredients:
500g of veal mince
250g of chestnut mushrooms – sliced fine
1 medium onion chopped fine
**2 heaped tsp of garlic and ginger puree
1 tbsp finely chopped fresh tarragon
1 tsp of dried thyme – my fresh plant is a bare skeleton atm
2 tbsp finely grated grana padano or similar
1 tbsp of rapeseed oil or olive oil
250ml of chicken stock
Salt and white pepper to taste
2 heaped tsp of plain flour
Half a tsp of Lemon zest
6 tbsp of crème fraiche – ONLY if using for a sauce over pasta
Method:
Put the chopped onions into a large saucepan with the rapeseed oil over a medium heat. Stir and cover to sweat them for about 10 minutes. Adjust the temperature down if necessary.
Meanwhile slice the mushrooms and their stems fine. Cutting the slices in half if they are large
When the onions have soften and appear translucent sprinkle over the mince and stir to brown it a little
Sprinkle on the flour and stir to distribute it evenly
Add the sliced mushrooms and stir
Add the chicken stock, tarragon, thyme, garlic and ginger puree, and lemon zest
Let the sauce simmer on the stove until the mince is cooked and the sauce has thickened a little
Towards the end of cooking add the grated cheese and stir to distribute it and add salt and freshly ground black pepper to taste
Recipe for Stuffed Peppers using all of the above sauce:
Ingredients:
6 red and yellow red peppers
6 tbl of ***panko breadcrumbs. Homemade breadcrumbs would do too at a pinch
6 tbsp of finely grated grana padano
3 tbsp of chopped parsley
Method:
Halve and deseed the peppers and spread them face down on a baking sheet
Bake them in the oven at 180c for 20 mins
Let them cool a little before filling
Fill them with the sauce – a dessert spoon makes it easy to press the filling into all the little hollows and crevises
Top the stuffed peppers with a mix of panko breadcrumbs and grana padano
Bake in the oven for 15 – 20 mins if the sauce is cold (if the sauce is hot just put the peppers under the grill to brown the cheesy topping) Serve on a bed of rice sprinkled with the chopped parsley and a little more tarragon if you have it
These stuffed peppers can be stuffed, topped and frozen and then cooked from frozen if you are in a rush
*Condemned Food Counter – most supermarkets have these cutting the price of soon to be out of date food. I always go there when I start the food shopping and style my food for the rest of the week around what's available
** I buy big jars of garlic and ginger puree in the Asian section of the supermarket.  The flavour is more delicate and much cheaper than the equivalent sold in the other sections of the supermarket. Spices and coconut milk are also a great bargain to buy from the Asian section
***Panko breadcrumbs can be a bit pricey. In the UK Tesco sells the cheapest ones in a decent sized pack
Leave a reply