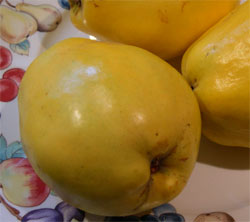 I decided last week to turn some of the quinces from Anna's garden into something delicious. I rubbed off the fluff, cut them into chunks and covered them with water and the zest of a lemon. They were simmering on the gentlest setting (lid on) for about four hours until they softened and the juice took on that deep pink hue.
I strained the juice through a jelly bag overnight and popped both the juice and the strained flesh into the fridge. I was delighted to discover that both keep happily in the fridge for a couple of weeks. 800g of quinces and 850ml (1.5 pints) of water made 600ml of thickish juice that I am going to dilute a bit before venturing to make our delicious jelly. The fruit pulp will be seived and turned into quince cheese or Membrillo.
However, neither the quinces nor the juice have quite the same rich colour of a photograph of poached quinces that I saw last year. Towards the end of 2006 I read two wonderful posts about quinces written by Melissa from The Traveller's Lunchbox. The first is an exquisite reminiscence of her first taste of membrillo and a good recipe. The second is a lazy way to make poached quinces and a vibrant red quince cordial. The photo on this post has stuck in my mind ever since.
Lying awake last night, I remembered Melissa's posts and recipes. Although the laptop was propped beside the bed and D was sleeping soundly beside me, I didn't like to fire it up just a foot away from his pillow. It has inbuilt speakers and is quite a vociferous machine.
So I crept downstairs and leafed through our abridged Mrs Beeton's Book of Household Management
that we keep in the loo. She suggests a long cooking time, at least 3 hours, and the addition of cochineal (if desperate). I am not that desperate.
Surely one could make Membrillo out of the quinces in both recipes and jelly out of the quince infused water. You would need to leave out the sugar during the baking stage of the poached quince (recpe 2) and probably reduce the liquid a bit after the baking stage.
What do you think?
Also, on the subject of quinces, I found this gorgeous site today with some ancient recipes for making quince paste and setting it in beautiful moulds. These would make wonderful Christmas presents. We have some old glass bowls that belonged to my grandmother that have a star pattern cut into the base. They would make a good mould if the paste was not too hot.
Update. We ow have our own recipe for membrillo here.
Leave a reply