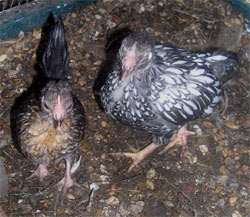 The rats are back. The harvests are in and they are looking for a decent source of food and water for the winter. What better than a spacious run with layers' pellets, fresh vegetable scraps in the morning, and the possibility of bagging two plump one month old chicks.
Mice are around all year but rats are generally seasonal visitors in our run.
"Let's winter at that cosy cottage down the village," must be the Rat Master's cry when the threshers arrive to harvest the corn.
"Yes, but after our annual sojourn in the grain store, we'll move on before the terriers arrive," is probably the response. They always arrive now. Even though they don't get clean towels and all that I would expect from a top class hotel they are gnawing through the chicken house walls to get in.
If I don't keep up to speed on the killing stakes, the small waves that infiltrate our place quickly become a flood that can easily take over. Past rat invasions have turned winters into a nightmare of rat like bumps in the night and a massive expenditure on poison.
I have a giant bin of rat poison, enough to polish off coach loads of enemies. These are always rats. Why treble your investment when a short sharp shock to the first holidaymakers can do the trick?
Act immediately when you spot the first evidence of rats in the chicken run. Dead or dying rats in the maze of runs beneath the soil tend to turn back the marauding hoards. Rats, like us, prefer not to live in a morgue.
Evidence of rat winter tourists is pretty obvious. Soft earth indicates that runs are being built. Small front doors appear, generally near the hen house or grain bins. This is when you have to move fast. Rats are canny, living near a good source of food with a nifty underground run for speedy access without traffic lights.
Take great care if you are laying down rat poison in a chicken run. Always wear gloves. I have a special pair of poisoning gloves that live on top of the poison barrel. Always protect your stock. Pour rat poison down through Rattie's front door(s) and prevent any possibility of a chicken eating the poisoned grain with a heavy brick or tile. The rats are attracted to the poison and so far haven't twigged that a tasty free meal and an immovable brick over their front door might not constitute a wonderful gift from a mystery admirer.
Mice are pests. They are around all year and can do a lot of damage in the chicken run. Even though the doors are open to the main chicken house they spend weeks trying to gnaw through the wooden walls. This can be accelerated by rats who continue the excavation with meatier jaws and burst through with alarming speed.
Remember that Rats can kill you. They carry the deadly Wiles Disease in their urine. They pee a little all the time. So even if there is no evidence that they are prospective winter residents, always wear gloves (24/7 and all year) when dealing with your chickens, their food and water. It could save your life.
Leave a reply