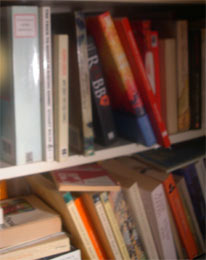 When I'm under pressure I dive into books.  Mostly novels and mainly thrillers as I want to be totally immersed in another's world. Reading about people under far more stress than I am is an addictive diversion.
A good book is the potential killer of a decent day's work. So I tend to keep them on the front seat of Jalopy to be indulged during breaks. Once when I was reading Donna Tart's The Little Friend
, I was forced to make a deal with my wanton reading gene. For each hour of decorating I earned five minutes with the book. Sometimes I saved up my imaginary tokens and spent 20 minutes closeted with the book but generally I took the quick fix five minute option. I can remember the weight of the book, the torment of trying not to get paint on the pages, the slow build up of the plot and the amazing conclusion.
I can recollect the process of the real job too, the intricate cutting in and the fact that Sylvia Plath's The Bell Jar
 was being read on the radio (this was back in the days when Oneword was still a DAB channel and I was vicariously catching up on great reads). It was an intense week.
I've just finished John Grisham's The Broker and am planning to pass it on to my last client who spotted it lolling on Jalopy's dashboard (just five pages to go). Now I'm reading Nicci French's The Red Room
 – so beautifully crafted that I'm back to the five minute rule. I managed to put it aside to write this post this evening, when I got in from work. In fact it was carried upstairs immediately to the bedroom to tempt me up to an early night.
Good books infuse. They make a great day better and can turn a bad day around in a trice. Powerful stuff.
Leave a reply