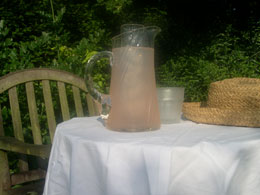 Danny was working in the garden yesterday afternoon. Studying the Sunday papers rather than waving a spade about. He wandered into the kitchen.
"What sort of drinks do we have to dilute with water?"
I pointed him in the direction of the Lemon Barley Water. Refreshing – they serve it at Wimbledon after all.
Then I remembered a girlie lunch last summer. The hostess served jugs of a delicious drink. It was a mixture of elderflower cordial and pink grapefruit juice (Robinsons) diluted with water. No one could guess what the ingredients were.
I also remembered that we have this nifty jug that I inherited from my aunt. It has a section in the middle for ice cubes. This chills the drink in the jug, without diluting it, and looks pretty too.
Danny doesn't like elderflower cordial. When I presented a large jug of this concoction he sampled it suspiciously.
"This is good. Are you sure that it's non-alcoholic?"
He clearly loved this delicate combination and the jug was drained before the ice cubes had melted. Now D is keen to make our own elderflower cordial this week. I'd love to have a go at making pink grapefruit cordial too. Meanwhile the Robinsons' cordial will be making its mark.
This cocktail can be mixed in seconds and would be a great standby for a lunch party on a hot summer's day.
Elderflower and Pink Grapefruit cocktail recipe
Ingredients:
50ml of elderflower cordial
50ml of Robinsons' pink grapefruit cordial
800ml (approx to taste) of chilled, still water
Method:
Mix the cordials in a jug, add the water and finally add some ice.
Leave a reply