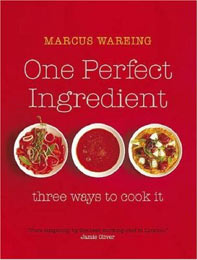 I'm a bit shy when it comes to new recipes. I have to be seduced.
Like everyone, I respond best to a combination of great recipes and guaranteed good results. Superb photography is the champagne that encourages me to slip on my apron and sort out ingredients with a trill.
One Perfect Ingredient is the latest cookbook from Marcus Wareing. His first book (How to Cook the Perfect…
) was recommended to me by my old cooking pal Gilbert.
"Wonderful book. No prinking about. Simple elegant recipes that make you think about the combination of flavours."
So I was delighted when Dorling Kindersley asked me if I would be interested in reviewing his new book, One Perfect Ingredient. When I found that the postman had propped the slim volume against the front door, Gilbert was round in an instant.
It was difficult to share. As G flicked through the book picking the best recipes for the perfect dinner party, I wanted to linger and absorb the writing, the photographs and soak up the feel of the book.
Hundreds of new cook books hit the selves each year so what makes this one so special?
Like a pretty girl in a simple dress, its cool clean simplicity is initially striking. Very quickly, I realised that this book is packed with good recipes and loads of sound advice and tips. So often I find myself flicking back and forth between the index and recipe sections of a cookery book and eventually lose heart. Many of the 40 key ingredients in this book have smaller roles in other recipes. It has a great cross referencing index at the back. I love the idea of focussing on one ingredient. Imagination immediately began to purr into action.
Gilbert and I have had fun with this book. Finding that I had two cauliflowers loose in the larder, I tried the Cauliflower Soup and the Cauliflower Salad with Caper and Raisin Dressing. Both superb. Gilbert planned to take the Lamb Baguettes with Fresh Mint Sauce for lunch on a trip to the coast. They ate them sitting in the car in the drive as the meaty, minty wafts from the basket were just too tantalising.
He rang me at midnight on Saturday to tell me that the Apple Granita with Wine Jelly was exceptional. I rang him the next night to report on the Rhubarb Fool with Poached Rhubarb. Gilbert retaliated by leaving a small parcel on our doorstep. The label simply read, "Guess what this is!"
Danny studied the offering and thumbed through the book.
"It can only be Gateau Opera."
It vanished within seconds.
The journey from page to imagined dish to plate can be a rocky. Every trip that I have taken with this book has been a good one. It has been beside me on the kitchen table for a couple of weeks and has moved from being a book with some intriguing recipes to a book that I would hate to lose.
The Cottage Smallholder has linked up with DK on a signed book reader offer. Signed copies of One Perfect Ingredient are available for the special offer price of ?13.99, including free p&p (RRP is ?16.99). This offer is on a par with Amazon (plus P&P) but Amazon don't have signed copies. To order readers will need to call the DK Bookshop (tel: 08700 707 717) and quote the offer reference (OPI022) and the ISBN of the book (978 1 4053 2004 7). This offer is subject to availability, and open to UK residents only. Customers should allow up to 14 days for delivery.
Leave a reply