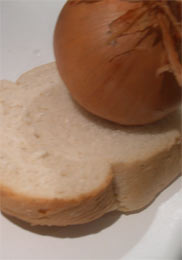 I got up quite early this morning to check the washing machine and dishwasher. One or other was leaking massively. It looked like both but discovered that it was the dishwasher and put a load of clothes on to wash while I did the big shop. I like shopping (don't get out much at the moment) and had taken up Amanda's idea of a meal plan. My list shimmered with an orchestra of relevant ingredients. Although I was tempted by a prima donna, not on the list. I signed her up on the spot. Spinach, in case you are wondering..
Rushing off to work this afternoon with the happy thought that Danny would be cooking roast chicken for supper, I was stopped in my tracks by this comment.
"I forgot to put bread sauce on the list!"
Danny and I are addicted to the Schwartz Luxury Bread Sauce Mix. For a moment I dithered. Danny's roast chicken just wouldn't be the same without bread sauce. I looked at the options. I could drive to Cambridge via Newmarket and get a pack. This would be a ridiculous waste of time and petrol.
Sometimes I am horrified how set in our ways we've become. Even though I say that we cook from scratch, we do use this instant ingredient a lot. I hadn't thought about it until today. It was just something that we like and buy regularly. Quick reckoning tells me that the just the bread sauce element of our roast chicken meal costs £1.00/$2, with milk and electricity.
As I was pressed for time and am on the save 25% challenge I considered all options and finally settled on the most practical solution.
Why not have a go at making our own bread sauce?
When I announced this thought to Danny the response was quick.
"But do you know how to make it?"
"Well yes and no. In the olden days everyone made it. It can't be hard."
I could understand his aprehension. The Shwartz mixes are good.
I was in a rush so didn't have time to examine our recipe books to find the best recipe. Occasionally in the past I had seen bread sauce kept warm with an onion studded with a few cloves sitting in the saucepan.
I quickly poured half a pint of milk into a saucepan, peeled and halved an onion, tossed in some blade mace and a couple of cloves and let the ingredients come to simmering point. I removed the saucepan from the heat to infuse until I returned from work. I also found a small end of a white loaf that I had secreted in the freezer just before it went stale.
I checked Prue Leith when I got home for the amount of bread needed and a method. Her recipe includes butter and cream and refers to bread crumbs.
The former too fattening, the latter too much of a hassle.
I removed the onion and spices. Then I cubed the bread and added it, and brought the milk slowly up to simmering point again. After a few minutes the bread softened and became a sauce. I added a large pinch of salt, pinch of nutmeg and quite a bit of freshly ground white pepper.
Danny tasted the bread sauce gingerly,
"Yes. It tastes just like bread sauce mix." After I added the nutmeg he courageously sampled a bit more." Great.. Less salty than Schwartz and much more subtle."
Our bread sauce saved a bit of dosh too – 50% including the electricity and took just 10 minutes to prepare and cook after steeping.
Simple homemade bread sauce recipe
Ingredients:
Half a pint of milk
1 small onion, peeled and halved
2 cloves
1 piece of blade mace 1.5cm X0.25cm
Large pinch of freshly grated nutmeg
50g of fresh white bread cubed or crumbed
Salt and freshly ground white pepper to taste
Method:
Put the milk, onion, blade mace, cloves and nutmeg in a saucepan. Bring to simmering point and allow to infuse for at least an hour.
Remove the onion and spice and add the cubed bread. Bring to simmering point and allow the mixture to simmer gently until the bread has broken down and with the milk and has formed a sauce. Season with salt and paper to taste.
Pour into a warm dish and serve with roast chicken or turkey.
Before D lived in England, he had never tasted bread sauce. He's now a convert. He agrees that it is an essential part of the quartet – roast chicken, streaky bacon, really good gravy, and bread sauce. For a feast, we'd both add Fred's chipolatas but never stuffing. D uses the cavity to create exceptional gravy and ingredients that infuse the bird and create a melt in the mouth dish plus gravy to die for. But that's another story…
Leave a reply