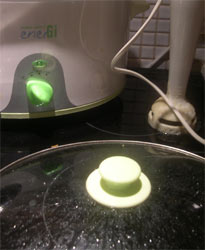 Parsnips were on sale – 2 for 1 in Tesco's last week. Great, I thought, I'll make parsnip soup. The parsnips had knocked about on the larder floor for so long that even Danny had given up asking what I was going to do with them. It was time to make the soup.
When D was secreted in the Rat Room upstairs, I peeled, diced and popped them into the slow cooker with some rich chicken stock, onions and a teaspoon of Garam Masala. I love this light combination of spices, not too overpowering to kill the sweetness of the parsnips. Interesting enough for Danny to examine the tin carefully when he stepped into the kitchen a few hours later.
In fact I had read the pack too. I didn't realise that Garam Masala can be added at any stage in the cooking process and even used to sprinkle on food at the table. I discovered that Fiddes Payne spices are available from Tesco. Much cheaper than Bart's, their Garam Masala is a winner. I did buy their Cajun spice mix but gave it away as cumin dominated and I live with a cumin hater. Bart's win hands down here, Cajun spice with no spice bully in the mix.
I had taken a peek at Delia's recipe for parsnip and apple soup and it seemed a bit of a palaver although I loved the idea of a topping of parsnip crisps (chips). Danny had never tasted parsnip soup so I wasn't keen on adding apple. before he has sampled this sweet, delicious soup.
Our parsnip soup is sweet, mildly spicy and easy – making and eating. No spiciness that forces an examination of the trachea and beyond. Low fat too as there's no need to fry the onions. 4 hours in the slow cooker and a happy smiling face when I got in from work this evening.
The soup is great naked but dressed and titivated with some creme fraiche and chopped parsley it is stunning.
Delicate parsnip soup spiced with Garam Masala recipe
Ingredients:
1 kilo of parsnips
250g of onions
1.5 litres of hot chicken stock (vegetable stock could be used instead)
1-2 tsp of Garam Marsala
salt and ground white pepper to taste
Method:
Peel and chop the onions
Peel, top and tail the parsnips and chip into 3cm lengths of similar thickness
Toss the vegetables into the slow cooker and add the hot stock and the spices
Cook on auto for 4 hours.
When the parsnips are soft blend the soup. I used the stick blender. And season with salt and ground white pepper.
Serve with creme fraiche and chopped parsley
Leave a reply