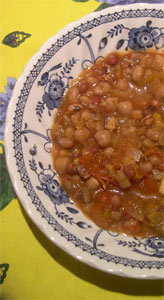 Having been a bit sniffy about slow cookers for years I am now a convert. It has just been a week since I tottered into the cottage with our virgin slow cooker. Since then she has slaved away preparing wonderful food. Generally this is fat free and so tasty that I need to officiate towards the end of the cooking time. Otherwise Danny is tempted to visit this well of wonder several times a day.
If I'm late back from work there is no longer a pinched face at the door. D might have polished off a litre of soup during the afternoon but he has not made a vast dent in our food budget. This soup is cheap, wholesome and so tasty that you would shell out decent money for a bowl.
On my visit to Daily Bread last Saturday, I spotted two intriguing soup mixes. Simply labelled Soup Mix no.1 and Soup Mix no.2. Clearly designed to be the heart of wholesome, filling soup. Intrigued, I put one of each into my hefty basket and staggered to the check out ( I had bought several other things all in 1 kilo bags.) With my daily decorating workout I have very strong arms but lifting the basket beside the till took Herculean strength.
Danny examined the contents of the two carrier bags when I returned home. He lifted out the soup mixes.
"These look interesting."
And they did in a sort of winter sandals way.
I repaired to the bath with some solid vegetarian tomes. After an elongated sojourn I reckoned that the key to great bean based soup must be the combination of beans, fresh vegetables and spices. So I dressed and pointed Jalopy towards Newmarket. I trawled the herb and spice section carefully. Eventually I chose an expensive Creole spice mix (Bart spices, in a silver tin ?2.99) and whisked back home. When I prised opened the inner metal lid, I knew that I was onto a winner, the spices smelt so fresh and there was a decent amount so not so pricey after all.
I soaked the bean mix, chopped the fresh veg, added the stock and other ingredients and handed over to the Slow Cooker Chef. She simmered the soup gently all night. We rushed down this morning and before the kettle had boiled for the morning brew had tasted the soup. It was amazing.
If you want a vegetarian soup substitute vegetable stock for chichken stock and leave out the pancetta.
Slow cooked Spicy Creole bean and summery vegetable soup
Ingredients:
250g of Daily Bread Soup Mix No 2 mix (a mix of Chick Peas, Flagelot Beans, Aduki Beans, Black Eye Beans and Haricot Beans soaked for 10 hours)
1 tin of chopped tomatoes
1 large onion chopped
2 leeks halved, washed and sliced (not the green tops)
1 red bell pepper deseeded and chopped
A splosh of passata (2 tblsp)
1 tsp of garlic granules (I know what you are thinking but I was flagging and they are good)
2 large pinches of decent Italian mixed herbs
I tsp of Bart spices silver tin of Creole spice mix
0.25 tsp of cayenne pepper
Good twist of freshly ground black pepper
100g of chopped pancetta (this gives soul but adds fat)
2 pints of boiling stock (made with 2 chicken stock cubs and one tsp of Marigold stock powder) This should be added last.
Method:
Prepare all ingredients.
Toss them into the slow cooker adding the hot stock last. Stir. Turn the dial to Auto and leave for 8-10 hours. If your dial doesn't have an auto setting (this heats all ingredients to the right temp before switching to low) set on high and hang around until the ingredients start to simmer and then turn down to low and leave for at least 7-8 hours.
If this is cooked overnight prepare for the possibility of eating this for breakfast and if you are on a budget remove the remainder immediately afterwards.
Leave a reply