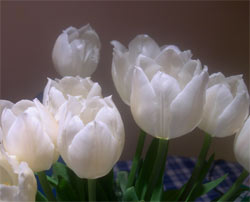 When I pointed out that soup was on offer at Waitrose my mother's reaction was instant.
"Who'd want to eat soup at this time of year?"
Well, Danny and me for starters.
We've stopped eating soup for lunch for the past month or so and now the weighing scales are in danger of collapsing when we step on board. Soup is so easy to make – why does it seem such a palaver?
I've been working much nearer home so lunch boxes are no longer planned. I swoop home grab some Boston Baked beans, a chunk of polenta bake or toast with pesto and cheddar cheese.
This week a glimpse of my widening girth had me thinking about ways to make soup even easier, with a better flavour, and I came up with this method.
Slow oven baked winter root vegetable soup is packed with taste and zing. The flavours are enhanced by the slow cooking. Chilling soup inhibits the flavours. Why couldn't cold summer soup be cooked slowly? Unless you have an Aga, this is an expensive way of producing a tasty soup.
If you have invested in a slow cooker/crock pot you have the means to simmer your soup for hours just using the power of a 100 watt light bulb (when the cooker is on the low setting). Also you can throw all the ingredients into the slow cooker without having to sweat the onions in oil and butter, so the soup can be low fat too.
With these wonderful warm sunny days I've yearned for Smart Wife's Leek and Potato soup (Vichyssoise). Perhaps if I made it in the slow cooker the flavour might be enhanced and even better.
I used the ingredients from the recipe and simmered the vegetables for three hours in total, starting on high until the soup had started to simmer and then switching to the low setting.
Danny tasted the soup. The flavours were so deep and intense that there was need to add salt, pepper or even lemon juice. We had produced a tasty healthy heart soup!
I did add single cream (about 150ml to the 2.4 litres of soup) to turn it into traditional vichyssoise. The large bowl of soup is now cooling in the fridge. The perfect chilled soup for a hot summer's day. Pretty good without cream and wonderful if you feel like including a splosh to give it that authentic flavour. The slow cooked version is light years beyond the traditional recipe.
The two vital things to remember are to use:
Really good stock (prepared overnight in the slow cooker using fresh bones, some vegetable divas and herbs).
Chop your vegetables fine (in the stock and the soup). This releases more flavour.
Slow cooked leek and potato soup recipe (vichyssoise)
Ingredients:
200g of finely sliced onions
500g of prepared leeks (tops discarded, washed and sliced fine)
300g of potatoes (peeled and sliced)
2 litre of hot stock (I used lamb and pork stock and skimmed off the fat)
150ml of Single cream (optional)
Method:
Prepare the leeks, discarding the darker green tops and rooty bases. Split the leeks and wash all earth away. Slice the leeks fine.
Skin and slice the onions fine.
Peel and slice the potatoes fine. I use King Edwards or Maris Piper pots
Add the leeks, onions and potatoes to the slow cooker and top up with 2 litres of boiling meat based stock. Ideally fresh but 3 chicken stock cubes would do at a pinch.
Switch the slow cooker to high and stir. Pop on the lid and leave until you see that the vegetables are simmering (about twenty minutes). Switch to low and stir. Leave for a good two and a half hours.
Check the onion. If it is soft the soup is cooked. If is is till firm leave for another half hour until the onion softens.
When all vegetables are soft, blend with a stick blender and chill. Add cream if you want the traditional vichyssoise taste.
Season with salt/lemon juice/freshly ground white pepper if necessary. Garnish with parsley to serve.
Leave a reply