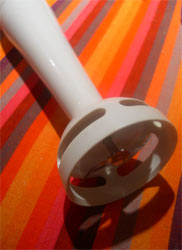 Back in the eighties I was given a blender. A large device that stood on a stand with an orange plastic cap over the hole in its lid. And, to keep it company, a nifty compact electric whisk
with two metal prongs for whisking stuff.
"These are essential in any kitchen." I was assured.
Both rarely left the darkness of the cupboard to perform as I didn't really cook. But I liked having them just in case I caught the cooking bug.
Many years later Danny reconstituted some semi solidified paint using the electric whisk with a slow and steady hand. The little white plastic dot on the base of the left hand whisk was stained yellow for ages.
Then we discovered a small stick blender on one of our Christmas Eve forays to John Lewis in Norwich. We bought the basic one and this little daemon is used constantly to make soup.
A couple of weeks ago I was sweating over four pints of béchamel sauce, trying to avoid lumps. Danny has a horror of these and has several gruelling tales of his mother's battles with bobbly sauce.
"She even tried using a sieve once. Of course it didn't work."
Behind closed doors, I'd trifled with sieves myself.
Then I had a rare, fleeting moment of pure logical thought. If the stick blender makes lump free soup why not use it to make a smooth béchamel?
I shut the kitchen door and plugged in the device. It worked. Perfect béchamel that you could bathe in. A discovery almost on a par with the wheel.
I fired up the computer and discovered that almost everyone else in the world had been using their stick blenders to make lump free sauces except me. Perhaps the instruction manual, tossed unread into the compost bin, had pointed out this key fact.
Now our stick blender has two roles. I'm wondering what else it can a stick blender legally do?
Leave a reply