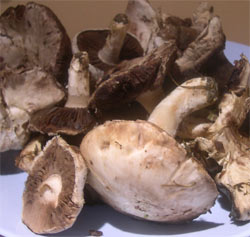 It's suddenly got a very Autumnal. A mist was rising just above the paddock grass when I slipped in to deliver The Chicken Lady's smoked bacon this evening.
S welcomed me in, wearing an apron.
"The paddocks are full of field mushrooms. So I'm making mushroom soup."
I dallied, watching him wash and scrape the skins. Large flat opened gilled specimens picked just hours before.
Happy horses, paddocks and mushrooms go together. I've read about this bounty. Around here every field and paddock is owned by someone. You can't just grab a basket, slip through a hedge and forage. You have to know someone who is generous enough to invite you onto their land. Within seconds my foraging antennae clicked in – finally I had friends with access to wild mushrooms and puffballs.
I must admit, the prognosis for S's soup didn't look good. He was referring to a 1940s copy of the Good Housekeeping cookery book. The recipe was stark. Just onions, mushrooms, stock and salt and pepper to season. All vegetables were tossed into the stock as they were chopped in batches, No prinky palaver of frying in oil. The only herb that was mentioned on the list of ingredients was thyme.
"What do you think?"
I suggested a couple of sure fire secrets ingredients – dried wild mushrooms and a little mace. The Chicken Lady mentioned potatoes.
They have thyme in the garden but S wanted to taste the soup first and see. Maybe he'd use our suggestions later. He had tweaked the recipe already, cutting the stock by a quarter and adding garlic.
The Chicken Lady tasted the soup and stood quite still. For a few long seconds she observed her husband. Overcome by curiosity I grabbed a spoon and sampled.
The wild field mushroom soup was superb. The best mushroom soup that I have ever tasted. The super fresh mushrooms, simple recipe and S's magic touch was the perfect combination. If you have access to wild mushrooms do try S's recipe. This was the ultimate easy, low fat soup but I'm not sure how this would work with supermarket fare. The freshness of the mushrooms must be the key.
"Why don't you join us and enjoy a bowl?"
I was so tempted but had to get home to feed the Min Pins and make some bread.
My mushroom soup is now bubbling on the stove. Generous to the last, TCL and S donated a plump carrier of mushrooms to the cottage. A few have been saved for Danny's first return breakfast on Sunday morning. The rest will dazzle him as a mushroom soup starter tomorrow night. The Chicken Lady rang me later to ask how my soup was progressing. Apparently a spoonful of cream stirred into the soup adds a different dimension and softens the flavours. It would look pretty too
Watching S this evening was a real lesson. With ultra fresh ingredients, keep the recipe simple and only add extra ingredients if necessary.
S's field mushroom soup recipe
Ingredients:
2lbs of field mushrooms
1.5 pints of cold water
2 chicken stock cubes
1 vegetable stock cube
1 very plump garlic clove – crushed and chopped fine
2 medium onions chopped
Method:
Wash the mushrooms and trim the stalks. Scrape the skins gently with a knife rather than peel them (perhaps this was the secret for superb flavour?). Chop them coarsely.
Bring the water to the boil and add the chopped onions, the mushrooms, the sock cubes and the garlic. Bring back to the boil and simmer for half an hour.
Blitz and serve in warm bowls.
Leave a reply