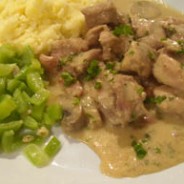 Finding myself with 600g of diced wild rabbit and no pheasant to go into a game casserole, I decided to glide onto the internet for inspiration and found this delicious recipe on We Are Never Full. Unfortunately I didn't have some essential ingredients such as bacon so I made my own version using the tarragon, mushrooms, white wine and cream as a starting point. The slow cooker was busy cooking the shin of beef disguised as a pheasant so I cooked the rabbit very slowly on the stove top. It took over three hours and was wonderful – the...
read more
Sometimes I have to accept a decorating job that I don't want. I sense on the initial visit that I will not be happy there and make my excuses. I can't say, "I don't like you and I don't want to work for you." So I explain apologetically that I have a one year waiting list at the moment. Sometimes I treble my quote. The 'bad job' radar blipped on my reccy visit to a couple that I will call The Beastleys. They were just a bit too charming and gushy. I trebled my hourly rate and placed them at the...
read more
This is the first time that The Cottage Smallholder has participated in a blog event. 'Waiter There's Something In My…' is hosted across three great sites. The first theme is stews. *See the bottom of this post for the link to the details. Tasty pheasant dishes needn't be rich to be good. This stew is packed with flavour and is good to eat at this stage in the season when you might be beginning to suffer from a surfeit of rich game dishes. We call this condition Pheasantitis. The only remedy is to freeze the birds...
read more
Sometimes the Cottage Smallholder game plucking service comes in very handy. We'll pluck and draw some game in exchange for a brace of pheasant or partridge. This gives us a good supply of fresh game right through the shooting season. This is our own recipe for pheasant and grapes, braised in clementine juice and white wine. The fruit both tenderises the flesh and balances well with the rich meat of the pheasant. Loads of summery flavours. The ginger wine was an experiment that worked surprisingly well. This is quick to prepare and...
read more