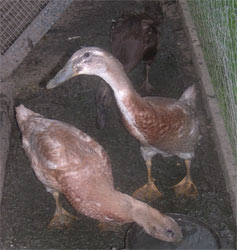 Freddie, Tipex and Eric Boss had a final breakfast of French beans, emptied the fresh water fountain and moved to their new and permanent home on Sunday morning.
S and Rollo arrived with a sturdy wooden crate in the boot of the Golf.
"We'll catch one each," S explained as he set up the crate for our return.
Secretly, I was a bit concerned. I'd never picked up the ducks or even touched them. They'd pecked gently at my green gardening gloved fingers hoping that they were edible.
S is an expert domestic fowl catcher so I decided to watch his strategy. But he moved so fast that I missed his technique in the whirl of wings and quacks.
To my relief, Rollo passed me the first duck to hold. It was Tipex, the duck that turned out to be a drake. He felt relaxed, solid and warm in my arms. I had one hand under his body and the other supporting his neck. The Chicken Lady told me months ago that fowl like to be held close, it makes them feel safe. Tipex didn't struggle using this method nor did Cloud on the dreadful day that she escaped and flew into the garden next door.
Freddie and Eric were caught quickly and all three of us walked serenely through the kitchen as the Min Pins bayed for blood, confined in the room beyond. Great Aunt Daisy Beatyl slept throughout the entire episode.
The garden and hen run were eerily quiet for the rest of the day. And introduction or removal always disturbs the status quo. But when I started to rake the run and clean the Emerald Castle the guineas joined me to scratch in the freshly turned gravel.
Last night The Chicken Lady emailed with news of the ducks. They had settled in well, been accepted by the other ducks and taken the evening air in the paddock. They have moved to a beautiful spot where they will be able to range free without the horror and torment of being bullied by Thunder (Guinea fowl Alpha male with massive red wattles and large helmet). TCL and S plan to find wives for Tipex and Freddie as the flock is a bit drake heavy. Meanwhile Eric(a) already has several suitors.
This morning there were no quacks when I opened the back door. Ducks are hugely interactive, although filling the water fountains was accomplished in seconds, I missed them.
Leave a reply