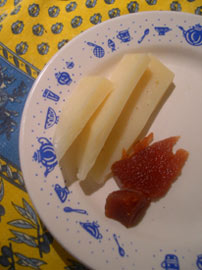 I have become addicted to the Manchego Membrillo Combination. This is not a barber shop trio but a marrying of flavours so exquisite that it had me rushing home for lunch for lunch three days this week. I added my own ingredient, Bath Oliver Biscuits.
Manchego is a traditional ewe's milk cheese from Spain's La Mancha region. It is matured for six months. This delicious cheese, has a smooth texture with a soft flavour and is perfect eaten with a slim slice of sweet Quince Paste. As far as I remember, Cervantes' Don Quixote hailed from La Mancha. I don't recall him or Sancho Panza savouring this delicacy.
And nor did Danny, this week. I tasted my first mouthful and felt honour bound to share this discovery with D. I mentioned very casually that I had found some Manchego in Tesco and would he like to taste some with Membrillo. Danny was having rather a bad day and brushed the suggestion aside with a sniff.
Rather naughtily, I didn't bother him by mentioning cheese again and feasted quietly alone for the next two days, which made the combination taste even better.
The Min Pins enjoyed the rinds.
Update October 2007. We now have our owm recipe for easy membrillo here.
Leave a reply