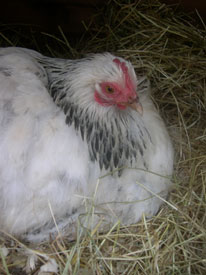 Hopefully this is the last weekend that we will be waiting for the arrival of the keets (baby guinea fowl). The eggs were sent by Sara at Farming Friends and are due to hatch anytime from June 27, so the next Mrs Boss newsflash may well report the addition of tiny keets to our menagerie.
Mrs Boss is in her element. Happy in her own studio apartment, she is shifted off the nest twice a day but now doesn't spend much time in her private garden. She refused to pose for the solo Paparazzo (me) and shimmied back to the eggs, but finding that I had flung down the camera and was now wiping the mud off the eggs, waited patiently. She is accommodating and my heart warms to her.
Today I spent time checking the ark for possible rat damage. All clear. I gave the apartment a good spring clean. Mrs Boss was not very happy about this but stood politely in the doorway until I had popped her clean eggs into a fresh nest that had that lovely light smell of summer hay.
I whizzed own to Newmarket and bought some pea shingle for the run. Once the keets venture out into their garden they will not be standing in mud when it rains. This attracted the attention of the other hens. We re-gravel the main run every six months or so. The floor of the main chicken run is getting higher and higher as the gravel sinks into the mud. The flock love scratching around in gravel and were clearly curious as to why only Mrs Boss's apartment had been given a garden makeover. They hung about looking into her garden until I distracted them with pinched out tomato shoots.
Meanwhile Mrs Boss is happy to be an International Superstar. So it's goodbye from Mrs Boss until next week.
Leave a reply