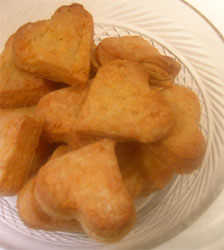 Optimistically, I always save my pastry scraps to make these melt in the mouth cheesy biscuits. They usually lurk in the back of the fridge and are forgotten. Danny eventually hoofs the bag of tired pastry scraps and I feel really bad. We have missed out on a superb delicacy. Today I was more galvanised and made the biscuits whilst I was waiting for a tart to bake.
These biscuits are simple to make and everyone loves them. They are a delicious appetiser before a supper party. At other houses they have been served at the end of a meal in lieu of cheese.
Today our pastry off cuts made eighteen little 3cm hearts. They are a good, albeit fattening, snack if supper is running late. We bake big batches of these at Christmas and they make a great inexpensive yet deluxe present.
Recipe for cheesy biscuits
Ingredients:
(Basically 2 for 1)
200g (shortcrust or puff) pastry off cuts
100g grated cheddar cheese. If you add a tablespoon of finely grated Parmigiano-Reggiano they transmogrify from cute hand baked savouries to sublime food of the gods.
Method:
Mould all your scraps of pastry into a ball and roll out.
Sprinkle one half with the grated cheese and fold the other half over the cheese.
Roll this out and keep on folding and rolling until the cheese is well mixed into the pastry. Even if you have bought your pastry ready made you are suddenly making a belt and britches rough puff pastry.
Finally roll the cheesy pastry to approx 0.5 cm thick. Cut out your biscuits with a small 
biscuit or cookie cutter
and bake in a greased baking tray in a preheated oven 200c (180c fan) for 10-12 minutes until golden brown.
Allow to cool and store in an airtight container or put the biscuits in a bag in the freezer and reheat when needed.
Useful links updated November 2009:
Marks and Spencer has a pretty set of star cookie cutters in their own enamel box
Amazon has a large range of cookie cutters
Wesfalia has a very nifty Christmas Biscuit Cutter
that cuts out 27 biscuits at once!
Leave a reply