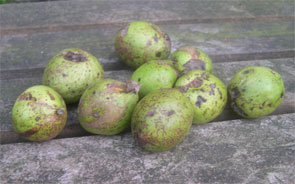 Years ago I used to visit Partridges, a wonderful delicatessen on Sloane Square. From now, throughout October and sometimes into November, they sold wet walnuts. I discovered this delicacy there.
Wet walnuts are fresh walnuts that have not been dried for keeping. They are crunchy with a milky, mild walnut taste and excellent with a soft cheese, in a salad or a sauce. They are also packed with omega 3, if you need an excuse for rushing out to taste them. You neededn't point your car in the direction of Partridges if you live in the country. You probably have someone in your circle of friends who has a bountifull walnut tree. I often find walnut saplings in my garden. I don't nurture them. A walnut tree in your garden tends to result in the squirrels trying to establish a walnut grove on your lawn. Best avoided.
We tried a walnut sauce with pheasant once – made with dried walnuts. It was far too rich. I have discovered that a sauce made with wet walnuts does not have that cloying taste. It is walnutty and fresh. Perfect with game or even pasta. I suddenly twigged that most great walnut sauces are made with wet walnuts.
Last week I was exploring the estate where I am working and spotted these small green fruit in the grass. Curious, I looked up and discovered that I was standing beneath a massive walnut tree. These were the first of the season's bounty. I peeled off the thick green skin and opened the walnut with my penknife. Walnuts don't need nut crackers, even dried ones. Put the point of a knife into the rounded end, twist and it should open easily. At this time of year, you will have the two halves of walnut shell filled with the crisp fresh nut resting in your palm.
Today I showed my joiner friend, Hugh, the same tree and the nuts. He has a walnut tree in his garden but the squirrels get all of his before he can even say nut. Consequently, he hadn't tasted a wet walnut. It was good to make the introductions.
When you have finished snacking don't discard the shells. They can be made into tiny sailing boats if you have children to amuse. They also make perfect cradles for the dolls house. If you are nifty with a mini drill bit you can make a couple of holes in each half and fashion a simple hinge out of thick button thread – then you will have a romantic receptacle for a teeny present for someone very special.
Leave a reply