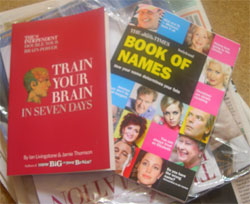 Each weekend we indulge ourselves with newspapers delivered to our door. Two fat ones on Saturday and a comic on Sunday. Danny bustled off to the loo with his free gift, "How to train your brain in 7 days." Whilst I exercised my grey matter by looking up our chances in my free gift, "Book of names. How your name determines your fate."
It'll be a week before we know the efficacy of D's brain programme. I'm going to let him beta test the programme whilst I concentrate on being more like the Fiona in my book. Apart from applying lashings of face cream to attain the ivory skin associated with my name I have to find a way of upping the old income to attain the average of £30,000 and set my sights on a different car (not a word to Jalopy).
Even if this is stressful I needn't worry about ending up at the shrink as my name has the most positive associations for psychiatrists. Gratifying to hear that I am unlikely to become a drug addict or a malingerer even if I don't live in Northern Ireland where large groups of Fionas are beavering away diligently and driving around in Renault Meganes. Fiona's are also a third less likely to be unemployed. "A third less likely than what?" snapped Danny, stuck on page six of the brain book.
I retaliated by informing him that he is already living beyond expectations. With a monthly mobile bill of well over the thirty pound monthly average associated with his name. He answered by swiftly turning to page seven of the brain book.
I quickly added that Daniel is one of the names linked with the most positive traits. He instantly smirked. "I'm amazed that you didn't know that already."
I took a peek at his book just now. It's full of conundrums that would rapidly train this Fiona to accept consistent failiure. My book is brimming with positive ideas, informing me that if I change my name (?39 by deed poll) I can change my destiny.
As a child I was going to change my name to Susan Marigold when I grew up – the first was a canny choice as Susans strut daily to high flying jobs and are most likely to win the lottery. Marigold isn't in the book of names but as Danny pointed out, this was clearly an early subconscious desire for a rich husband.
We were lured onto The Timesonline site http://www.timesonline.co.uk/section/0,,32809,00.html where you can answer four simple questions (hobby/car/accomodation/supermarket) and they will select your perfect name. We held our breath.
"How about Buffy?"
"Someone told me that my name is definitely Bobby."
There was no time for discussion as The Times quickly decreed that our names should be Janet and Roger. A long distance relationship as I would be living on the Scottish Borders whilst Roger kicked up his heels up in the South West.
Suddenly Danny and Fiona seem perfect.
Leave a reply