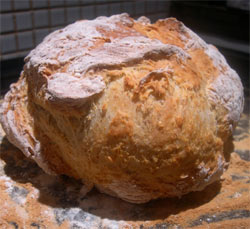 Just before I met Danny I attended a bread making course at Darina and Tim Allan's cookery school in Ballymaloe. It was a great course covering a vast swathe of bread making from brioche to Irish soda bread. The days were packed with information and practical sessions. Set in the heart of the Cork countryside, it was an unforgettable experience.
After the course finished I spent the weekend at Ballymaloe House. The food was so good that, even ten years later, I still remember the amazing dishes on the massive hors d'oeuvre table in the restaurant. The warm soda bread baked for breakfast was the best that I've ever tasted.
Last week I returned home late from work and realised that we had run out of bread. Unwilling to get up early and buy a fresh loaf or stay up late and wait for my bread to rise and bake, I remembered that soda bread doesn't use yeast so is quick to make. I used a Darina Allen's recipe for white soda bread as my starting point. I added a large egg and a small handful of medium oatmeal (both are variations that she suggests for a brown soda loaf in her excellent book Irish Traditional Cooking
). Buttermilk is sold in 284ml cartons in the UK so I added a beaten egg and topped the liquid up to 350 ml with semi skimmed milk. The result was stunning and got the thumbs up from Danny, who was raised on soda bread.
Soda bread uses plain flour and bicarbonate of soda as it's raising agent. There are three key tricks to this bread.
Always use measuring spoons – a level teaspoon means just that. Looking at the different sizes of teaspoons in my draw is enough to make me search for and find the measuring spoons in an instant.
Sieve all dry ingredients – who wants to find little nodules of bicarbonate of soda marooned in the bread?
The third trick is a speedy, lightness of touch. When you mix the ingredients, make your hand into a claw and make the mixing stages as rapid as possible – so as to add air to the mix. Avoid kneading the dough and shape it with dainty hands.
I baked the bread on the top shelf of the oven for the first 20 minutes and then moved it to the middle shelf for the last 25 minutes. Perhaps it was the sweet smell of baking but when I opened the oven door the loaf oozed fresh bread charm. Every inch of it whispered eat me.
Soda bread needs to be eaten really fresh so we usually freeze half. Brown soda bread is particularly good with wild smoked salmon. My white version was sweeter than the brown version.  If you bake this in the morning, it's perfect cut warm enough to melt the spread of chilled butter.
Update: Tim Allen has written a very good book on breadmaking The Ballymaloe Bread Book
.
Leave a reply